Children educated on importance of sharing with others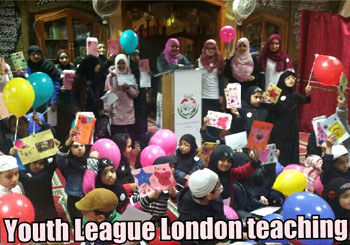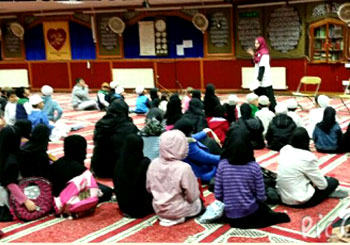 On Sunday 22nd March, Muslim Youth League UK Sisters (London) arranged to take part in International 'Sadaqah Day'. This was done in collaboration with the students of Bayt-ul-Hikmah.
MYL UK sister, Fozia Shabbir, began by welcoming the children and explaining the aim of the day as well as how they would be taking part in it.
Children gave their input on the meaning of 'sadaqah' and different types of it, such as 'smiling'. Fozia explained that everyone would be making cards for children that are unwell, some of whom may be terminally unwell. She also gave some examples of what messages could be written in the cards to make the children happy when they receive it.
Tables were set out in the main hall for groups of children to work around. Various arts and crafts were provided for the children to use; these included: colour pencils, stickers, cards, markers, crayons, pictures and assorted decorations.
All children were given an information card on an individual child. The children had to read the card to get to know the child in a bit of detail and then make a card for them based on their interests and favourite colour etc. The MYL UK sisters were supervising the children throughout, helping the younger ones to read and prompting with ideas on what to write.
A real 'sadaqah' environment was created as Sadaqah Day stickers were given to all children to wear as they made the cards. There were also Sadaqah Day balloons that were blown up for the younger children to play with and Sadaqah Day shirts were worn by some of the organisers during the event.
The children enjoyed making the cards as it had a purpose; they knew they were making it for another child and wrote messages that would bring a smile to their faces. To conclude, a group photo of the children was taken, along with their made cards. We thank all the volunteers who helped out of the day.
Reported by Nur Adeela