MWL (Birmingham) holds monthly spiritual gathering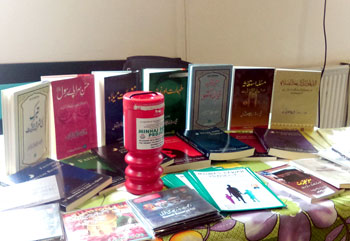 On the 4th of April 2015, in the Alum Rock branch of Minhaj-ul-Quran, Minhaj Women League (Birmingham) held a monthly programme for the local sisters. The programme was hosted by Sister Rabia Khanam (MWL welfare of Alum Rock Birmingham).
The event started with a beautiful recitation of The Quran by Sister Amina Ishtiaq followed by two young sisters Nazneen and Nafeesa who blessed the gathering with recitation of Durood and a Naat. Sister Shazia Parveen (MWL Dawah secretary) talked about (Minhaj Dawah Project) MDP and what Minhaj-ul-Quran's aims are. She explained to the audience that MQI is a global movement working for promotion of peace, interfaith harmony and dialogue.
Sister Sundas Anwar delivered a speech in English on spiritualism. She spoke on how to gain closeness to Allah whilst offering prayers and the importance of focus on Salah. She explained to everyone that they should reflect at the end of the day to see how they can improve. The audience were taught that, gaining closeness to Allah is not just fulfilling the five pillars of Islam; it's about cleanliness of your heart and tongue. This is achievable in the simplest of ways such as picking up litter from the street.
Sister Rukhsana Iqbal (MWL Midlands Halqa Durood Co-ordinator) delivered a speech in Urdu on how to polish our hearts with zikr, namaz, fasting and other acts of worship. Furthermore, she elaborated on how important it is to do 'esaley-swaab' for our families, friends and our fellow Minhaj Sisters and brothers. She talked about how water pumps are 'Sadaqa Jariyah' for people who do not have access to clean drinking water, how Durood we offer helps us in our daily lives and has changed our lives for the better. She also emphasised the blessings of being a member of Minhaj-ul-Quran and how it has dramatically impacted our lives. She explained that we are only here in this world for a short period and encouraged the audience to do as much good deeds as you can, as this will help us in the Hereafter. The programme was drawn to a close by a beautiful Dua by sister Rabia Khanam followed by Salaam.
Reported by: Shaheen Akhter (MWL Media Secretary )