Nelson: Spiritual gathering held for women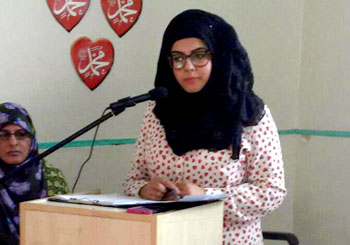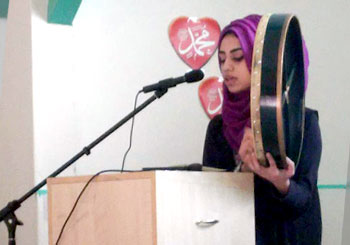 On Sunday 8th March 2015, Minhaj-ul-Quran Women League Nelson organized its annual spiritual gathering to mark Gyarvi Sharif in honour of the great Shaykh Abdul Qadir Jilani (RA).
The mehfil was hosted by Sister Ghulam Fatimah (President of Minhaj-ul-Quran Women League Nelson). The programme began with the beautiful recitation of The Holy Quran, which was done by Sister Rabia, who recited some verses of Surah Rehman along with its translation in Urdu. After the recitation of The Holy Quran, Qaseedah Burdah Sharif was read by Sister Shagufta.
Sister Ghulam Fatimah stressed on the importance of celebrating Gyarvi Sharif in her informative speech and also discussed the life, high status and blessings of the Great Shaykh Abdul Qadir Jilani (RA). The endless struggle and works of Shaykh-ul-Islam Dr Muhammad Tahir ul Qadri were also stressed during the programme and how their aims are to promote religious harmony, peace and love amongst mankind.
Sister Gazalla read a Manqabat about the countless blessings of Shaykh Abdul Qadir Jilani (RA) followed by a beautiful Naat read by Sister Maria praising the Holy Prophet (SAW). Further Naats were recited by Sister Anam Khalid followed by Sister Zulekha from Accrington and Sister Shazia.
Sister Sehrish Ismail (PAT) also attended the mehfil to provide tickets and convey information in English for the benefit of the younger English speaking members of the audience about her forthcoming PAT event: Anti-Terrorism Seminar to be held at the Ace Centre Nelson. Sister Nasreen Akhtar (MWL Dawah Secretary for UK) provided information about the Anti-Terrorism Seminar in Urdu for the benefit of those who did not understand English.
The programme concluded by sending Blessings and Salutations upon The Holy Prophet (SAW) jointly by Sisters Anam, Rabia and Zulekha and a heartfelt Duaa was conducted by Sister Nasreen Naeem at the end. The event was held as a great success with approximately two hundred and fifty women and children who attended it. Food was served to all those who attended.
Report by: Nahid Akhtar Nelson Media Secretary