MWF raises £18,600 as aid for people of Tharparkar (Sindh)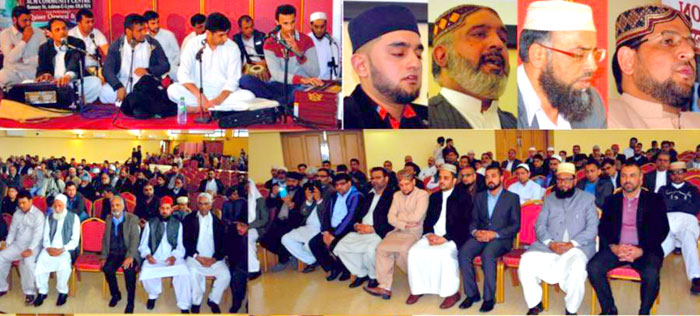 Minhaj-ul-Qur'an (Ashton), along with the local community of Ashton and the Ashton Central Mosque, arranged a fundraising event for the neglected and poor community of Tharparkar, Sindh, Pakistan on Sunday 10th May 2015, at the ACM Community Centre in Ashton.
The program was arranged to raise awareness about desperate plight of the inhabitants of Tharparkar, and in particular their crucial need for assistance in obtaining clean drinking water. Adnan Sohail (Project Manager of Minhaj Welfare Foundation) had also recently visited Tharparkar to see the projects of MWF and get some up-to-date footage to highlight the need of this area.
Branches of Minhaj-ul-Qur'an as well as Executives of the National Executive Council of MQI (UK) were invited to attend the event. The local branch of MQI (Ashton) had set a target to raise sufficient funds for 20 large hand pumps to be installed in the Tharparkar region. One pump was estimated to cost £450 and to benefit up to 60 people with sufficient clean water for drinking and general use, within its locality.
Qaiser Qawwal Party of Bradford agreed to participate as the main performing guests at the event and also agreed for all funds received on stage during their Qawwali's to be donated to the Tharparkar cause, without any deduction. Tickets were sold in the weeks preceding the event and just over 500 tickets were sold in total. Ticket sales generated revenue of around £5,000 which was also donated to the Tharparkar cause. Sponsorships were obtained to cover the cost of the program. Hence, all funds generated from the program would go straight to the Tharparkar project.
The program was a family event with participation from people of all ages. Allama Muhammad Haroon Abbasi (Ameer Minhaj-ul-Qur'an Gtr. Manchester), conducted the proceedings of the program in a very motivational and charged manner. The program commenced with recitation from the Holy Qur'an by Hafiz Muhammad Abdullah Awan (Imam, Ashton Central Mosque), followed by a brief introduction by Allama Haroon Abbasi. Thereafter, a Naat written by Pir Naseer-ud-Din Naseer (rh) was recited by Shahbaz Hassan Qadri (MQI Ashton), which included comments and motivation from Allama Haroon Abbasi for the attendees to donate generously to the Tharparkar cause. £480 was raised and donated to the cause, during this first Naat.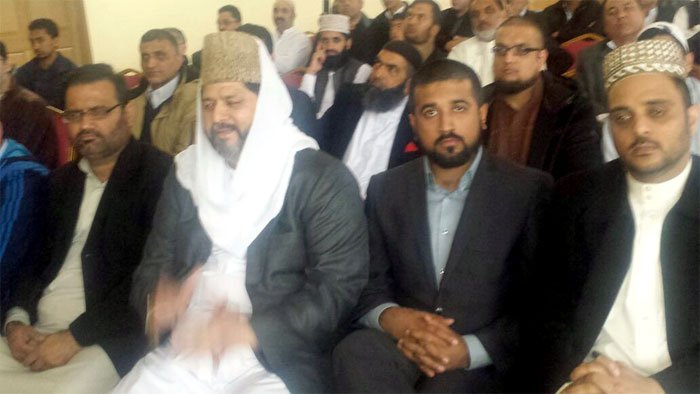 This was followed by another brief talk by Allama Haroon Abbasi, highlighting the plight of the desperate inhabitants of Tharparkar, and the fact that the political, religious and social leaders of Pakistan seemed to be constantly ignoring their plight and circumstances. Members of the audience again started bringing forward donations and the atmosphere was warm and participatory.
Then Allama Haroon Abbasi introduced Qaiser Mahmood and his Qawwal Party, who, commenced their performance with their first Qawwali. Before, commencing their first Qawwali, an announcement was made, that Qaiser Qawwal Party had volunteered all funds received on stage during their performance, would go to the Tharparkar cause, as their contribution to this event. As the Qawwali's started the audience continued to donate funds and it was evident that the program would prove successful. The Qawwali mehfil was presided by Syed Ali Abbas Bukhari (Sec. General MQI UK), and guests included Munazir-e-Islam Allama Ahmed Nisar Baig (Markazi Jam'at Ahl-e-Sunnat UK), Pir Muhammad Maqsood Madni Churahi, Allama Nauman Hussain Qadri Al-Azhari and others. Allama Haroon Abbasi continued to interject where needed and motivated the audience, men, women and children to donate more for the cause.
The management of the Centre and the Ashton Central Mosque also generously donated £500 to the cause and inspired the local community to participate further. Masjid Al Aqsa (Bolton) donated £420 from a collection they had made, and local branches of MQI also donated to the best of their ability.
After the first session of Qawwali's, Syed Ali Abbas Bukhari again thanked Qaiser Qawwal & Party for their generous gesture and also their inspiring performance. Then Adnan Sohail (Project Manager MWF) gave a brief but informative presentation of his personal experiences in Tharparkar and the immediate requirement for aid and in particular, clean water in this huge desert area of Sindh. Examples were shown of how women have to carry water for miles every day, to supply the very basic need to live for families across this region. Footage was also shown of actual pumps and work undertaken by MWF in Tharparkar, as well as an interview with an inhabitant of the area, who was very appreciative of the MWF aid effort. This presentation brought a very realistic and true to life realization of how people are having to struggle to survive on a daily basis in such intense desert heat.
Syed Ali Abbas Bukhari gave an example from the Holy Qur'an of the benefits of helping others and then invited Qaiser Qawwal & Party to continue their performance. During the last two Qawaali's the fundraising level increased once again as the audience's motivation reached new heights. At the end of the Qawwali performance Syed Ali Abbas Bukhari thanked Qaiser Qawwal for their assistance and £2,460 was received as donation to the Tharparkar cause from the Qawwal group, as funds received on stage during their performance.
Syed Ali Abbas Bukhari thanked all attendees, the Ashton Central Mosque management, Qaiser Qawwal & Party and other guests. Closing supplication (Dua) was made by Pir Muhammad Maqsood Madni, who congratulated the community of Ashton and the Ashton Central Mosque for supporting this event, whilst also acknowledging the global work for humanity instigated by Shaykh-ul-Islam Dr Muhammad Tahir-ul-Qadri. Dinner was served to all attendees after Salat-ul-Asar.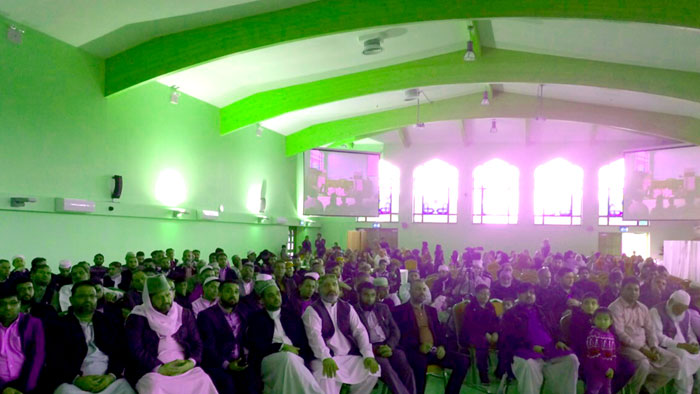 By the end of the night, the program had exceeded its targets, and in fact the total funds raised for the Tharparkar cause, exceeded £18,600. Minhaj Welfare Foundation thanked the workers of MQI (Ashton) for this effort and Adnan Sohail (MWF Project Manager) confirmed that the funds raised, would be sufficient to build at least 40 large hand pumps in the Tharparkar area. One hand pump is estimated to provide sufficient water for up to 60 people and the lifespan of these pumps is at least 10 years.
Muhammad Farooq Qadri (President MQI Ashton) commented that, the success of this event was due to the vision of Shaykh-ul-Islam to assist humanity all over the world, irrespective of caste, religion, nationality or any other denomination.
Asif H. Malik (Sec. General MQI Ashton) elaborated, that this single event had provided a sustainable supply of pure drinking water for more than 2,000 people for a period of at least 10 years. It would hopefully motivate other areas and communities to also arrange events to support this cause. Muhammad Ashfaq Warsi (Membership Sec. MQI Ashton) commended the performance and gesture shown by Qaiser Qawwal & Party, who had motivated the audience and created a very charged spiritual atmosphere.
Jhangeer Akhtar Warsi (Finance Sec. MQI Ashton) thanked the efforts of Allama Haroon Abbasi in using his oratory skills in motivating individuals and local branches to donate to their maximum capacity and beyond. Gazanfar Iqbal Mehr (Media Sec. MQI Ashton) thanked the local community for their participation and support.
Muhammad Shabir (Vice President MQI Ashton) thanked the families and sisters for their participation and generous contributions throughout the program, as well as the Management and Imam's of the Ashton Central Mosque for their facilitation of the event. Ahmed Qadri (MYL Ashton representative) stated that the program would not have been manageable without the efforts of the youth of MQI Ashton and the work of Zafran Akhtar, Shahbaz Hassan, Adam Malik, Awais Farooq, Zain-ul-Abideen, Saadiq Hayat and others was commended and appreciated by the executive of MQI Ashton.