Miraaj-un-Nabi spiritual gathering held in Manchester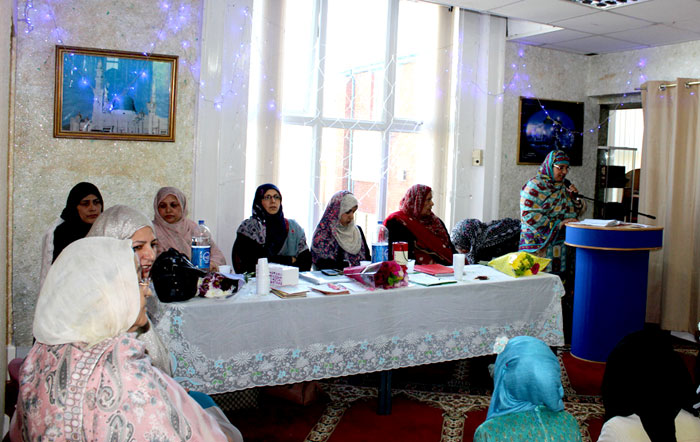 Mi'raj-un-Nabi (saw) is a great gift for the Muslims. It was the most blessed journey of human history during the night of ASCENT. It is the highest honour, which was not bestowed on any prophet except the Holy Prophet (SAW) who Almighty Allah invited to come to Him for a meeting.
The Mi'raj-un-Nabi (saw) event, held under the banner of Minhaj Women League Manchester on Sunday the 26th of April attracted people of different ages who attended the spiritual gathering to enlighten their hearts with the remembrance of Almighty Allah and his Beloved Prophet (SAW). The programme was conducted by Asifa Uppal.
The gathering started with the recitation of Holy Quran by Rifat Imran followed by Hamd and Nasheeds in the honour of the Holy Prophet (SAW) by Sara Asif, Abida Bibi, Sara Bano, Rifat Kamran, Khalida Sahiba, guest sister Iram from Nelson and many other sisters.
Saima Ahsan Hussain, General Secretary of MWL Manchester, delivered a short but descriptive English talk on the "Call of Mi'raj-un-Nahi and love for Holy Prophet (saw) and mentioned the three stages of the blessed night.
This followed by the short Urdu talk by Shamime Akhter, President of MWL Manchester. She threw light on the various aspects of Miraj-un-Nabi (saw).
MWL Manchester got an honour to have a guest speaker in the person of Nasreen Akhter (MWL North president UK) who delivered a beautiful and keynote speech on the significance of Mi'raj-un-Nabi (saw) and the message for the Muslim Ummah.
She said, only offering Namaz doesn't make us "Imandar" we should have the love of our Prophet (saw) in our hearts. She said that peace, tolerance and interfaith harmony and dialogue are some of the core values MQI is working on under the leadership of Dr Tahir-ul-Qadri. She said that MQI is building bridges among various cultures, and civilizations.
In the end she gave a strong message of Minhaj-ul-Qurans aims and objectives to all ladies present in the gathering. She invited and encouraged ladies to come and join MWL and get involved in the local activities. Alhamdulillah many ladies took interest and registered to become members of Minhaj-ul-Quran.
CDs of lectures by Shaykh-ul-Islam Dr Tahir-ul-Qadri were distributed for free among the ladies and also books were sold at the Minhaj book stall.
The programme ended by the recitation of Salutations of peace on the Holy Prophet (saw) by Fazilat Bano. This was followed by supplication by Nasreen Akhter. Food was served on the occasion.
Reported by: Asifa Uppal (Media Secretary MWL Manchester)