MQI Nelson holds monthly spiritual gathering for young students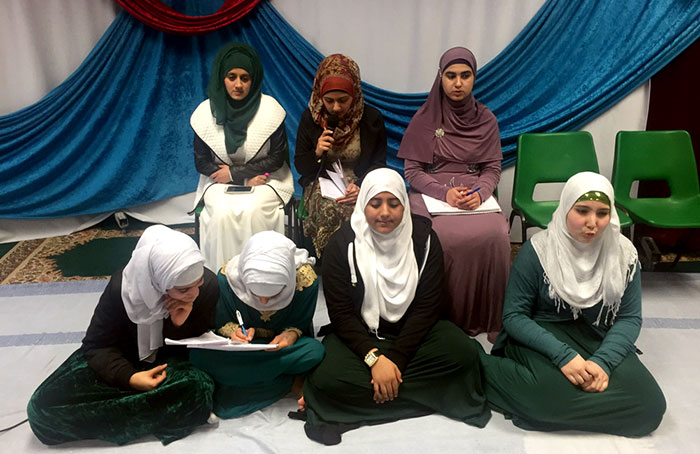 On Thursday 16th April 2015, Jamia Masjid Minhaj-ul-Quran held a monthly spiritual gathering to mark 'Giyarveen Shareef' for young female students who attend the education centre on a daily basis. The programme began formally with recitation of the Holy Quran by Nida Ajaz, a senior student at the centre. This was followed by Qaseedah Burdah Sharif which was recited as a group by everyone.
The mehfil then continued in the usual manner with praises on the Holy Prophet (SAW) in the form of Naat Sharifs. The first Naat was recited by Rabia Ayub and Zarah Khan, who read Rab Farmaya Mehboobah. There was then a group Hamd by Zaynab, Zara and Aleena who recited the 99 names of Allah (SWT). This was followed by a poem by Zaynab and Aila.
There were also English Nasheeds recited by students as a group. Malaikah and Adawiyyah beautifully recited a Zain Bhikha Nasheed called "Mountains of Makkah". This was followed by another nasheed by Amina Ahmed called "The love of Muhammad (SAW)".
There were further Urdu Naat Sharifs as a group by Fatimah Rehman, Naveera Ayub and Amina Basharat. There was another poem, beautifully recited by Aleena Ahmed. Noor, Sumaira and Zalaikha also recited a beautiful Naat Sharif together. This was followed by further praises on the Holy Prophet (SAW) by Maaheen Amjum and Anam Ahmed.
Students also recited Ahadith of the Holy Prophet (SAW) individually. The sisters who recited the sayings of the Holy Prophet (SAW) were, Tooba Bilal, Sammar Basharat, Sana Fatima, Lybah Khan and Mariam Ajaz.
The first speech of the event was delivered by Zulaikha and Laibah, who talked about the importance of praying five times a day. This was followed by a group Naat by Minhaj Naat Group of juniors, which was formed in the last programme; they recited "Madad Ya Ghoas e Azam". There was then more praises on the Holy Prophet (SAW) by Alisha Shamraiz and Amara Ahmed.
Bismah and Amelia delivered the second talk of the event, followed by Nimrah Khan who was the main speaker. She delivered a very beautiful speech at the end about Surah Noor. Students were very happy to hear the talk. The final poem was about miracles. The final Dua was done by Sister Nimra Khan, who prayed for the success of the students, teachers, parents and the long and healthy life of Shaykh-ul-Islam Dr Muhammad Tahir-ul-Qadri.
Reported by: Tahira Basharat & Naushaza Fiaz