Miraj-un-Nabi Conference held under MWL Denmark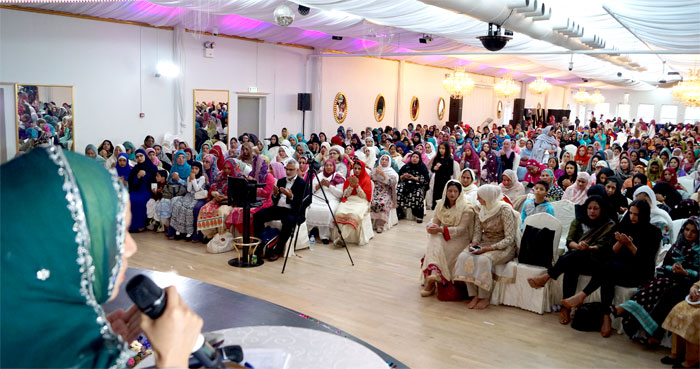 On 17th May 2015 Minhaj-ul-Quran Women League (Denmark) and Sisters League held a conference to mark Miraj-un-Nabi (SAW).This conference was held in a big marriage hall for the first time and 800 women participated in this great event.
Minhaj Women League specially invited respected Umme Habiba, the first female Naat Khawaan from Pakistan for this event, who came all the way from Chicago. She beautifully recited the recitation of the Holy Quran, praise of Allah (SWT) and praises on the Holy Prophet (SAW) in her beautiful voice.
Another guest of the event was respected Sumaira Faisal from Belgium, President of Women European Council, who beautifully spoke about the auspicious events of Shab-e-Meraj. She shed light on the virtues of the great night and explained that Allah (SWT) performed a great miracle by blessing the Holy Prophet (SAW) with this meeting in the heavens. It was at a time when the Holy Prophet (SAW) was grief stricken due to the passing away of his beloved wife Hazrat Khadijah (RA) and his uncle Hazrat Abu Talib (RA). It was also stated that this event was the acceptance of the request of Hazrat Musa (AS) who also wished to see Allah (SWT. With the excuse of reducing 50 prayers, Hazrat Musa (AS) was able to catch glimpses of Allah (SWT) through the Holy Prophet (SAW). Eventually the Muslim Ummah was gifted with the five daily prayers.
In the end, Sumaira Faisal shed light on the aims and objectives of Minhaj-ul-Quran International, introduced some of the books of Shaykh-ul-Islam Dr Mohammed Tahir-ul-Qadri and invited the attendees to join MQI.
In the conference venue, a book stall of Shaykh-ul-Islam Dr Muhammad Tahir-ul-Qadri's books was displayed which elicited a great amount of participants' interest. There was also a small ceremony of prize drawing in which women won 2 return tickets to UK and 2 different gift vouchers.
Special guest Umme Habiba was gifted Dr Muhammad Tahir Ul Qadri's book 'Al Maaruj Al Sunnah' and Fatwa on Terrorism and Suicide Bombings. Sister Samira Raja, president of Youth League, thanked all the guests and audience for attending the event.
The obligation of hosting the event was beautifully fulfilled by respected Nafees Fatimah, Dawah and Tarbiya secretary in Denmark. Mrs. Sumaira Faisal made a heartfelt prayer for all those who attended the event and prayed for their well-being. She also prayed for the good health and long life of Shaykh-ul-Islam Dr Muhammad Tahir-ul-Qadri, prosperity of Pakistan and Islam.
At the end of the event, refreshments were served to those in attendance.