When will Rangers carry out operation against target killers in Punjab, asks Dr Tahir-ul-Qadri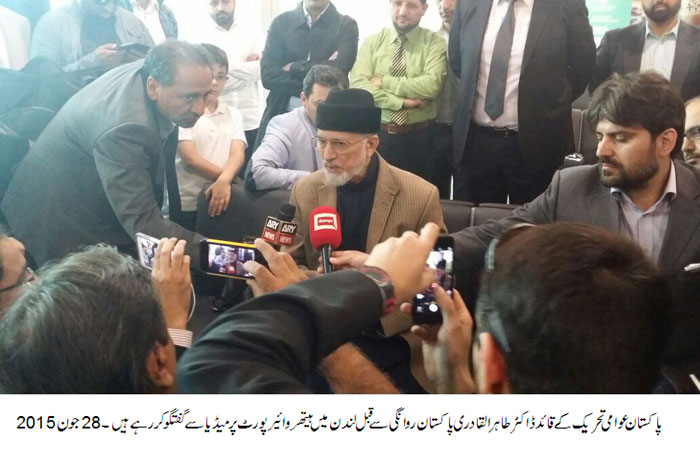 Talking to journalists at the Heathrow Airport on the eve of his departure for Pakistan, PAT Chairman Dr Muhammad Tahir-ul-Qadri has said that the rulers are not taking the issue of global terrorism seriously. He said that if the rulers continued to behave in this criminal manner, the succeeding generations will face the consequences of their neglect. He said that he launched anti-terrorism curriculum during his stay in London, adding that a similar ceremony will be held on July 29 in Islamabad in which the same peace education curriculum will be launched in Pakistan as well. He said that the use of pen is of equal importance in eliminating terrorism in addition to use of the hard power as it is the battle of ideas that essentially involves winning hearts and minds.
Dr Tahir-ul-Qadri expressed his deepest sense of grief and sorrow over the 1500 deaths caused by heatwave, load-shedding and water shortages in Karachi. He said that those elements are responsible for these deaths who claimed to end load-shedding in six months. He said that these people come into power only to plunder the country, adding that they would hardly be bothered even if hundreds of thousands of people die. He said that Karachi has been experiencing dance of death for last ten days but the Prime Minister remains busy in enjoying the comforts of his palace. He, once again, reiterated his stance that we will not rest till we get justice for 14 innocent martyrs and 85 injured people of Model Town tragedy.
The PAT chief said that he pays rich tributes to the Rangers for its courageous role in purging Karachi of criminal mafias, adding that they are doing their fundamental duty. He, however, reminded the Rangers authorities that some of the dead bodies are lying in Punjab where the killers of innocent people remain outside the purview of law and holding ministerial positions. When will the Rangers carry out operation against them? He asked. He stated that innocent people were killed in Model Town and we would continue to press for provision of justice to the martyrs. He said that the legal battle is on and will continue to be waged till justice is administered.
In reply to a question asked about PTI Chairman Imran Khan, Dr Qadri said that he was unaware of arrival of Khan in London. He said that neither has anyone told him about it nor has any meeting taken place between them.