Dr Hassan Mohi-ud-Din Qadri visits mega project site in Bradford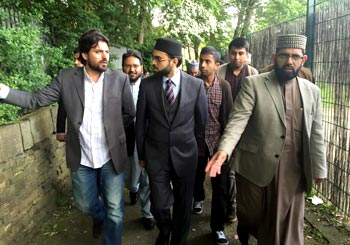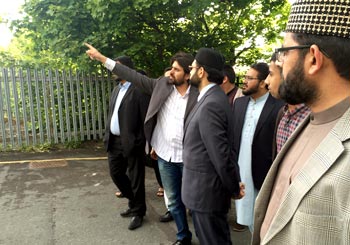 On Saturday 7th of June, 2015, President of MQI Supreme Council Sahibzada Dr Hassan Mohi-ud-Din Qadri visited the mega project site in Bradford. After delivering an inspirational talk earlier at a Youth Peace Ambassadors summit in Shropshire, he arrived at the mega project site to the warm greeting of MQI members who travelled from across the country to greet him. The large gathering included representative of MQI organisations from across the North of England including Glasgow and Dundees along with members of BCIG – British Council for Islamic Guidance. The workers of Minhaj Women League including Fatima Mash'hadi attended and Minhaj Youth League activists were also present at the welcome reception.
Sahibzada Dr Hassan Mohi-ud-Din Qadri warmly greeted all those present that included Syed Ali Abbas Bukhari, Dawood Hussain Mash'hadi. Allama Muhammad Afzal Saeedi, President of MQI National Executive Committee and the head of the mega project in Bradford, formally welcomed Dr Hassan Qadri to the site.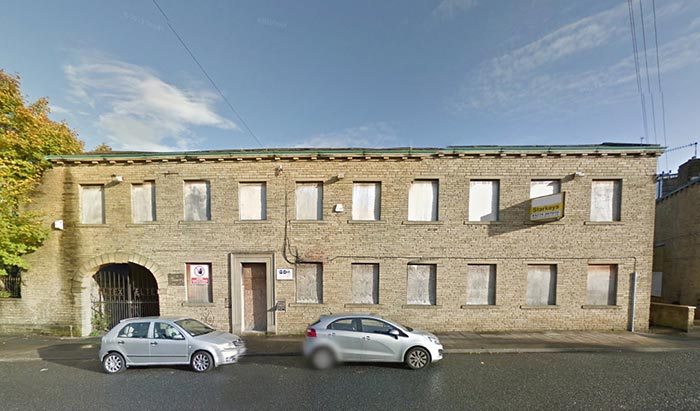 After exchange of greetings, the tour of the site began. Allama Muhammad Afzal Saeedi gave a detailed briefing on the site and the anticipated vision for the site. He outlined that the site has so much potential that it will, insha'Allah become the hub of knowledge from the North of England. He threw light on the vision of establishing an iconic facility in the heart of Yorkshire that will have one of the largest mosques in UK along with an educational establishment as well as recreational centre. The site will also have beautifully crafted gardens including water feature.
Allama Muhammad Afzal Saeedi further elaborated that the vision for the Site is to work in partnership with other organisations and develop mutual bonds to strengthen partnership links with other organisations. It was also mentioned that the potential for the site is huge and our proposed plans make it one of the largest development works of its kind in Bradford undertaken by a community group.
Sahibzada Dr Hassan Mohi-ud-Din Qadri, after viewing the site and the locality, congratulated all those present and gave a mesmeric talk about turning the vision into reality. He pondered upon several points and cited many references from Islamic literature of the need to ensure that Minhaj ul Quran maintains itself as an organisation that inculcates education, promotion of peace, unity and harmony at the heart of its mission.
Dr Hassan expressed his gratitude to Allama Muhammad Afzal Saeedi and to Minhaj ul Quran International Bradford for the warm welcome and reception. He prayed for the success of the project.