Shaykh-ul-Islam visits Bradford, Mega Project site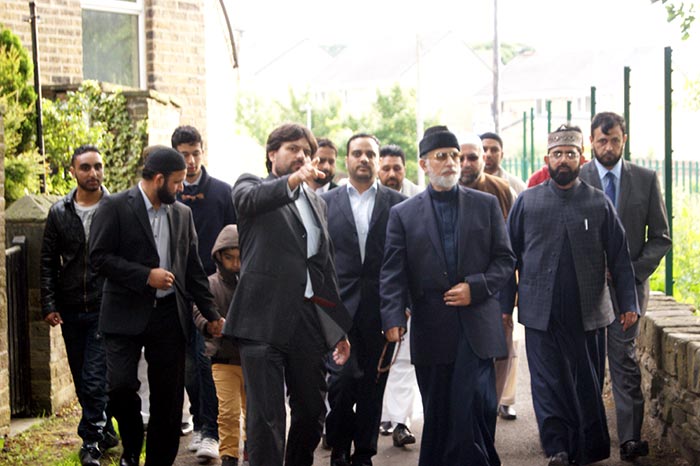 On Friday 28th June 2013, MQI Bradford was proud to host an impromptu visit by Shaykh-ul-Islam Dr Muhammad Tahir-ul-Qadri. The visit commenced with a tour of the newly acquired site, a disused industrial complex spread over 2.2acres. Insha'Allah this new site will become the heart of MQI UK and Europe, a headquarters aiding the advancement and progression of Minhaj-ul-Quran International UK.
Through generous donations from MQI members and affiliates, MQI UK successfully completed purchase of the new site. The site will soon be developed into a headquarters accommodating the rapid growth and expansion of MQI UK & Europe at large. During the tour of the building, Shaykh-ul-Islam Dr Muhammad Tahir-ul-Qadri instructed the NEC president Shaykh Muhammad Afzal Saeedi to build a headquarters which would reflect the values of MQI and will enhance the vision & ideology of MQI worldwide. It will incorporate demands of the local community, serving as a centre for education, a social and community relations and health and well-being. It will encompass the need to progress MQI UK further to ensure that it is developed towards fulfilling the vision set by our founding leader Shaykh-ul-Islam Dr Muhammad Tahir-ul-Qadri.
Shaykh-ul-Islam acknowledged the hard work and efforts of everyone and also expressed his appreciation. He was impressed at the huge potential of the building. The ceremony was concluded by a final prayer from Shaykh-ul-Islam who prayed for the sustainable and successful future of the project.
The following morning, a further meeting was arranged with the architects and Shaykh-ul-Islam was given a comprehensive briefing on the new site and presented some potential options. Shaykh-ul-Islam also gave instructions to the architects to incorporate certain aspects within the planned development of the site.
On Saturday 29th June 2013 an exclusive meeting was held at MQI Bradford with National representatives of Minhaj-ul-Quran. Shaykh-ul-Islam gave met with all volunteers of the project across the UK and gave further guidance for the future development and progression of the project. Shaykh-ul-Islam also congratulated everyone on the achievements thus far and implanted his future vision for MQI UK. The efforts of MQI Bradford were formally recognised and they were congratulated on their active involvement and sacrifices to ensure the success of the project.
Alhamdulillah we look forward to establishing a new headquarters in Bradford, MQI Bradford are honoured to have this project in their immediate vicinity and we pray that this project is successful under the leadership of Shaykh Muhammad Afzal Saeedi and the tutelage of Shaykh-ul-Islam Dr Muhammad Tahir-ul-Qadri.