Spiritual gathering held under MQI (Birmingham)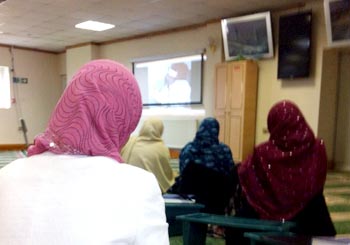 On the 14 of May 2015, Halqa-e-Durood gathering was held at the Minhaj-ul-Quran International Birmingham. This blessed gathering was hosted by Sister Rukhsana Parveen, MWL President of Alum Rock Birmingham.
Quranic recitation was done beautifully by Sister Abida Mughal, MWL General Secretary of Alum Rock Birmingham. This was followed by Naat, which was recited by Sister Maaria Majeed. A group of 11 sisters and Sister Abida also read from Irfan-ul-Quran and Minhaj-us- Savi.
Sister Rabia Khanam, MWL Welfare Secretary of Alum Rock Birmingham, talked about the holy month of Rajab from Miraj book. She talked about the three stages of Miraj Isra, Miraj and Ehraaj. The Holy Prophet (SAW) had Miraj in his human and Noor form. Nothing was hidden from the Prophet SAW) on Miraj, and hell and heavens were shown to him (SAW). The Prophet (SAW) went to heavens and 'Sidratul Muntaha' and the Angel Jibrail (AS) wasn't able to go beyond this stage.
The recorded speech of Dr Tahir-ul-Qadri was played on the occasion. Zikr and Dua was done by Sister Rukhsana Begum Membership Secretary of Alum Rock Birmingham and Salaam by Sister Gulshan Bano, President of Midlands. Information leaflets were distributed to everyone.
Sister Abida Mughal distributed food to attendees.