MQI Dallas organizes Calligraphy Exhibition & workshop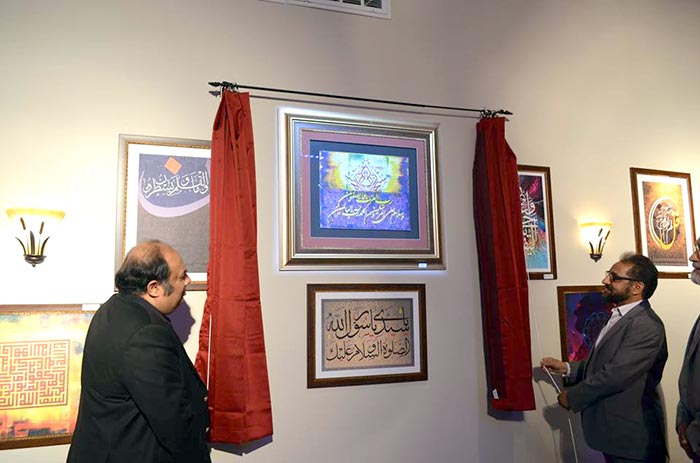 Among the several goals of Minhaj-ul-Quran, the one among them is to reconnect and strengthen our relationship with the Holy Quran, the book of Almighty Allah and the beloved Prophet Muhammad (SAW). The Quran is transmitted in Arabic, and the inherent quality of the Arabic script is the potential for developing a variety of ornamental forms. The Calligraphy is principally a means to transmit a text into a decorative form. Considering Calligraphy, or beautiful writing, is the most highly regarded and most fundamental element of Islamic art and its development is strongly tied to the holy Quran. Minhaj-ul-Quran International Dallas organized Calligraphy workshop and amazing Islamic art and Calligraphy exhibition at Jame' Hasan al-Basri Minahj-ul-Quran Community Centre in Dallas, Texas.
Renowned Artist, Gold Medallist Naat reciter, graduate of Lahore college of arts and Master Calligrapher Noor Muhammad Jarral was invited from Washington DC to develop the interest in people towards this highly venerated Islamic arts of the first century and reconnect them to the beautiful ornamental letters and words of the Quran, which was the love letter of the Creator of this universe revealed onto the heart of His most beloved creation, Prophet Muhammad (SAW) 14 centuries ago.
The exhibition started at the ornate Uways al-Qarani auditorium of Minhaj-ul-Quran Community Centre after the inauguration and unveiling of the master piece of the Calligraphy arts by Dr. Hasan Hashmi. Dr. Hasan Hashmi is a renowned Pakistani-American physician, a colorectal surgeon and a prominent businessperson, owner of Texas General Hospital and others several hospitals in the US and Dubai.
A large number of people from different segments of society visited the exhibition for both days and showed interest in learning about this wonderful art. Calligraphy workshop was a great success where more than 30 people including children above the age of 11, men and women all attended comprehensive sessions for both days under the tutelage of Noor Muhammad Jarral. Several different fonts of Calligraphy including Kufic, Diwani, and Thuluth was introduced to students, but the main font of 'Naskh' was practiced during the session. Students were provided the materials for Calligraphy and lunch the second day after the completion of course. Furthermore, the attendees were also provided the opportunity to have their name written in a cursive style on a paper after the workshop.