Anti-Terror Curriculum awareness at Birmingham multi-faith Iftar dinner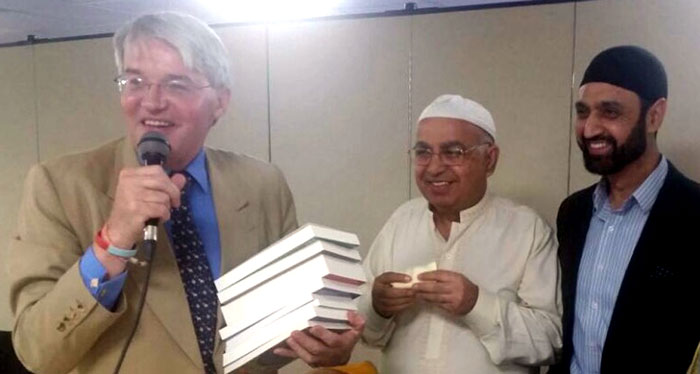 Birmingham Central Mosque organised a multi-faith Iftar dinner to commemorate the 10th anniversary of the July 7th London bombings and to remember the Srebrenica Genocide on 5th July 2015.
Honourable guests attending the event were Ahmed Nawaz, President of Minhaj ul Quran Midlands, Andrew Mitchell MP of Sutton Coldfield, Rt Rev Bishop David Urquhart, Rabbi Margret Jacobi and Chaudhry Muhammad Afzal, Chairperson Central Mosque.
MP Andrew Mitchell and faith leaders were presented with the Peace and Counter-Terrorism Curriculum by Chaudhry Muhammad Afzal, Chairman Central Mosque, Muhammad Ali and Ahmed Nawaz, President Minhaj ul Quran Midlands.
The Anti-Terror Curriculum and abstract leaflets were displayed on tables in the hall for the attendees. All books and leaflets were sponsored by Minhaj Dawah Project.
Special thanks are due to Birmingham Central Mosque Chairperson Chaudhry Muhammad Afzal, General Secretary Chaudhry Abdul Rasheed, Vice President Chaudhry Muhammad Sarwar and Administrator / Event organiser Muhammad Ali for inviting the President of Minhaj- ul-Quran Midlands to their multi-faith Iftaar gathering.