Newham community gathers for collective prayer under MQI initiative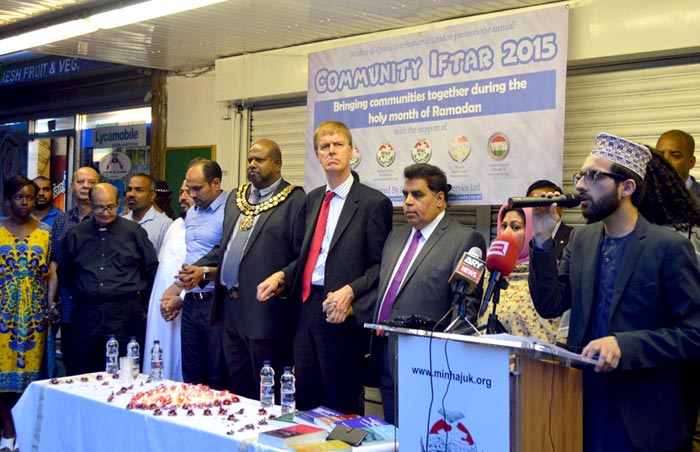 The world recently witnessed the tragic incident in Tunisia in which a number of British citizens lost their lives at the hands of a brutal terrorist whilst enjoying their annual summer vacation. This heart breaking event inspired Minhaj-ul-Qur'an International UK ( MQI UK) to hold a community Iftar (opening of fast), a gathering to bring the people of Newham together in community cohesion, and a collective prayer for peace in remembrance of the victims of the terrorist attack in Tunisia.
The Mayor of Newham along with politician Mr. Stephen Timms MP was present amongst other distinguished guests, outside the MQI London premises on Romford Road (E7 9HD), offering words of condolence and sorrow. The diverse community of Newham gathered together in unison expressing their sadness and grief for the needless and brutal loss of lives.
A heart felt candlelit vigil was held and a minute's silence observed. The silence-filled atmosphere reflected the powerful expression of sadness at the senseless death of innocent people. The diverse multicultural and interfaith community of Newham stood shoulder to shoulder in solidarity alongside the Rt.Hon Stephen Timms (MP for East and Shadow Work and Pensions Minister), Chief Inspector Shabnum Chaudhri (Newham Police) and Cllr Paul Sathianesan (East Ham – representing the Mayor of Newham) and many other participants of all ages.
The event concluded with the opening of the fast with dates and all participants were subsequently served with traditional Asian foods and home baked cakes. Special thanks are due to Punjab Catering that kindly donated the delicious 'biriyani', which was served to all and particularly enjoyed by the Metropolitan Police.
The event proved to be a great success, in that the community of Newham got together by putting their differences aside and celebrating their commonalities in the name of love and compassion for humanity.
MQI UK would like to offer its gratitude and special thanks to all the participants because without all of them the event would not have been such a resouncing success. Special thanks to our guests who took time out to attend the fast-braking:
Cllr Liaqat Ali MBE (Walthamstow)
Cllr Syei Akiwowo (Forest Gate)
Cllr Unmesh Desai (East Ham Central)
Cllr Mukesh Patel (Green St East)
Cllr Hanif Abdul Muhit (Green St West and Lead Councillor for Green St Community Neighbourhood)
Cllr Jose ALEXANDER (Green St East)
Cllr Mas Patel (Forest Gate)
Cllr Lakmini Shah
Cllr Toni Wilson
Father Matloob Barnabus, Emmanuel Church, Church of England
Rev Christy or a representative, Westfield Multifaith Room
Claire Clinton, R.E. Matters
Gowri Pillai, Bridge Builders
Charity Nzegwu, Methodist Church
Father David Mow, Woodgate Church Community
Chris Matthews, HWPL UK, Scripture Dialogue
Reported by Khadijah Atkinson