Opening ceremony of Al-Minhaj weekend Educational Project Hilfax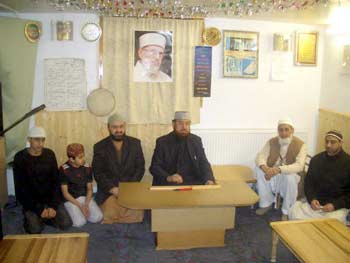 On the 23rd of February 2008 Allama Hafiz Nazir Qadri, the Ambassador of Minhaj-ul-Quran International arrived in Halifax UK at Muhammad Javid Akhtars residence to perform the opening of the Al-Minhaj Home Weekend Project for boys and girls which was specially done in celebration of Shaykh-ul-Islams 57th birthday.  
The Ambassador of Minhaj-ul-Quran International arrived in Halifax around 1pm with Muhammad Aurengzaib (president Minhaj-ul-Quran, Bradford). They were welcomed and thanked by Muhammad Javid Akhtar for taking their valuable time out to perform the opening. They were informed about the Educational activities in Halifax such as the classes run for boys and girls on weekends as well as the monthly and annual mehfils. At the present time 40 Girls attend the Al-Minhaj weekend project as well as 20 boys. The classes are run voluntarily without any fees charged from the students.
During the classes students are taught from Shaykh-ul-Islams books such as,

Minhaj-us-Sawi, Barakat-e-Mustafa (saw), al-hakooq-o-Adab

. Along with English books such as Islam on prevention of heart disease, Sirat-ur-Rasul (saw), Greetings and salutations on the Holy Prophet (saw). As well as learning from Shaykh-ul-Islams books students are also shown video lectures in English and urdu by Shaykh-ul-Islam. The lectures are recorded into short lessons of about 10 to 15 minutes and children are asked to take notes during the lecture clip so they are directly learning and becoming attached to Shaykh-ul-Islam. After the clip they are then asked to explain in their own words what they learnt from Shaykh-ul-Islam.To encourage the children to participate in reading Naats they are shown naat videos by Afzal Noshahi, Milad raza qadri etc. Children also take part in performing Islamic plays and are given time to produce projects on topics such as, hijab, the life of the Prophet (saw), parents etc.
A Mehfil for women and young girls is held at the Al-Minhaj home library every month on a Sunday in which Girls have the chance to recite Naats and carry out short speeches learnt in the classes. From January 2008 a monthly mehfil for men and boys also began in which Milad Raza Qadri was invited with the help and support of brother Muhammad Abdul Qadir from Bradford. Milad Raza Qadri recited many beautiful Naats, during which a Video clip of Shaykh-ul-Islams lecture on the topic of Shahadath-e-Imam Hussain (ra) was shown. After this more Naats were recited.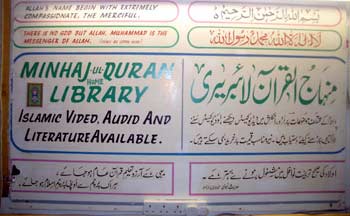 The second monthly mehfil for boys took place in early February. In this mehfil Allama Saeed Sahib (director of Minhaj-ul-Quran, Bradford) and a beautiful young Naat reciter, Nasir karim were invited. Tilawat and Naats were recited by students of al-Minhaj Educational project after which Naats were recited by Nasir Karim. As normal during this mehfil a lecture clip by Shaykh-ul-Islam on Ihlak-e-hasna was shown for about 11 minutes, after which Allama sahib carried out his speech.
These programmes have encouraged the children and their parents to participate in reciting Naats as well as listening to the lectures of Shaykh-ul-Islam on QTV and DVD. Insha'Allah such activities will continue and as time passes they will also be improved. Such work is all due to the blessings of Shaykh-ul-Islam.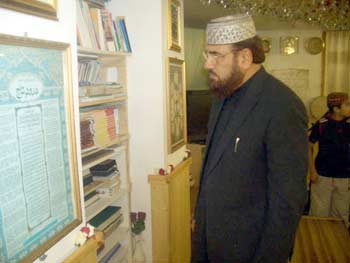 The Ambassador of Minhaj-ul-Quran International was very pleased and happy to hear that such activites take place in the home and congratulated everyone especially the father of Muhammad Javid Akhtar, Haji Abdul Majid saying that he is lucky to have a child who is doing such good work on the platform of Minhaj-ul-Quran. In addition to this he said that it is a great blessing for parents to train their children to follow the Deen and also work for its betterment, since without such training only wealth will be left for the children which will not benefit the parents or children as well as the community. He also added that those who are sincere will gain Shaykh-ul-Islams blessings spiritually without having to be physically near Shaykh-ul-Islam. He then mentioned that working for the mission can only be carried out properly if both Husband and wife are sincere members of the mission and therefore train their children in the way of the mission in order for them to develop a deep attachment with Shaykh-ul-Islam.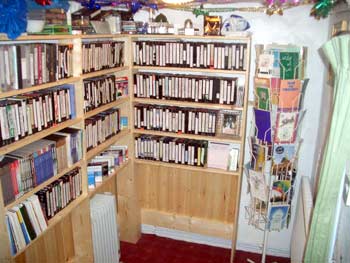 After a short while the Ambassador of Minhaj-ul-Quran International performed the opening by first making Dua and then cutting the ribbon. He then visited the Al-Minhaj home library, the classroom and the students prayer room. He and Muhammad Aurengzaib were very pleased to see such work taking place in the home. After this the Ambassador of Minhaj-ul-Quran International along with everyone had lunch. He then gave advice on how to carry out the activities and also said how lucky we all are to be part of the blessed mission of Minhaj-ul-Quran.
Approaching the end of the opening of the al-Minhaj Home weekend project the Ambassador of Minhaj-ul-Quran International was presented with the newly published book

'Clarity Amidst Confusion: Imam Mahdi (as) & The End of Time'

 which was translated from the lectures of Shaykh-ul-Islam. This book was published under the Literature project of MQI NEC UK.
Before leaving, the Ambassador of Minhaj-ul-Quran International was thanked again by Muhammad Javid Akhtar for giving his valuable time and advice which will be remembered and followed, Insha'Allah. May Allah (swt) through His Beloved Prophet (peace be upon him and his family) make us all sincere towards Shaykh-ul-Islam and help us to work for the mission and may Allah (swt) also accept all of our good Duas, Ameen.
Report prepared by Safora Akhtar (MYL Halifax)