MWL Birmingham holds Ramadan event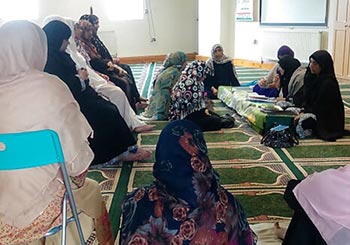 On the 18th of June 2015, Minhaj Women League (Alum Rock Birmingham chapter) started a Halaqa-e-Durood Ramadan for one week in the Minhaj-ul-Quran Centre Naseby Road Birmingham with the blessings of Allah Almighty.
This blessed spiritual gathering lasted two hours on every day of the week where Quranic recitation, Naat, Durood and Hadith were recited. The Urdu book titled 'Husn-e-Ikhlaq' (Excellence of Manners) was read throughout the week which gave the attendees a lot of knowledge about the concept of mannerism in Islam. The recorded speech of Shaykh-ul-Islam was played on the occasion. Quran Khawani was also done for the departed souls of martyrs of Model Town tragedy.
The week concluded with a special Dua for peace and harmony for all mankind. At the end of the week gift bags were given out to the people containing books, the holy Quran's translations, DVDs and dates to open their fast with.