Holland: Minhaj Rotterdam organized Monthly Mehfil-e-Khawateen in June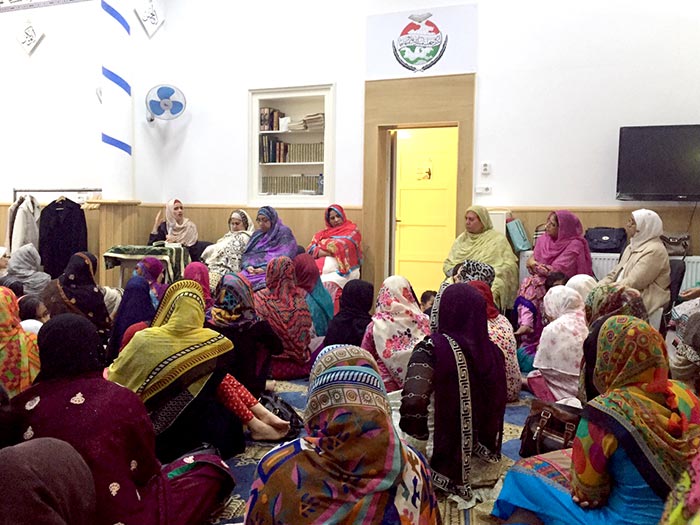 On the 6th of June 2015 Minhaj Rotterdam (Holland) organized the monthly Mehfil-e-Khawateen for the local women and sisters. Approximately 70 women and sisters attended the mehfil in Idara Minhaj-ul-Quran International.
The programme started with a beautiful recitation of the Quran by Sister Saffina followed by Durood. Sister Attiya continued with Hamd-e-Bari Tala. Mrs. Rehman blessed the gathering further with a beautiful naat. Sister Riffat Malik talked about Minhaj Itikaf project. She explained to be generous before Ramadan even starts and even more when it's started. She told that everyone should contribute to this project and that it would be a form of Sadaqah. Not only for this project but also other Minhaj Welfare Projects for more blessings in Ramadan. Then Mrs. Yousuf gave some other advices about some preparations for the blessed month of Ramadan. The mehfil continued with two more naatein by lovely sisters.
Mrs. Sumaira Faisal (European Coordinator Minhaj Women & Sisters League) was the main speaker and chose the topic 'Tauba' (repentance) because of the upcoming blessed month of Ramadan. Through tauba we can turn to Allah SWT and intensively change ourselves. From Prophets, Sahaba-e-Karaam and Aulia Allah we've learned that if you made the good niyyah (intention) to (re)start on the straight path then start with tauba. When a momin repents with a sincere heart then surely Allah SWT forgives those who truly turn to Allah SWT through tauba. Mrs. Sumaira Faisal used many sayings of our beloved Prophet Muhammad SAW related to tauba. Even teachings of Ghaus-ul-Azam were explained to spread the beautiful message in our hearts about the feeling of tauba. So we cleanse our souls through tauba and begin with a new start in the blessed month of Ramadan.
The programme was drawn to a close by a beautiful 'Salaam' and 'Kalam-e-Tauba' by Sister Nasreen followed by a Dua.
The monthly Mehfil-e-Khawateen will InSha'Allah continue after the blessed month of Ramadan.