Spiritual gathering held under MQI Birmingham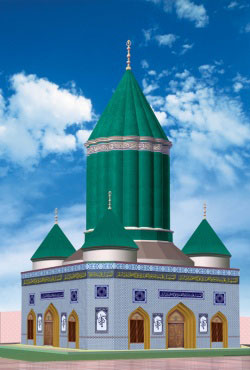 On the 4 July 2015 the Minhaj-ul-Quran Women League of Alum Rock Birmingham held its monthly programme in the Minhaj-ul-Quran Birmingham on Naseby Road with the blessing of Allah (SWT) and His Beloved Prophet Muhammad (SAW).
Tilawat was done by young Sister Nafeesa Bint Wajid followed by Naats by Sister Ummi Habiba Majid, Sister Shaheen Akhter MWL (Media Secretary of Alum Rock Birmingham) and Sister Abida Mughal MWL (General Secretary of Alum Rock Birmingham).
Sister Rukhsana Iqbal (Halqa Durood Co-ordinator of Midlands) did Tafseer of few verses of the Quran, reminding us of how Allah SWT says that when you make a promise to someone, it should be kept as a promise, to break a promise whether big or small is a sin.
Sister Shazia Parveen (Dawah Secretary of Alum Rock Birmingham) delivered a wonderful speech in English about fasting and the night prayers. She said that night prayers bring us very close to Allah (SWT) and the reward and blessing are far much more than day time. Itikaf is done on the last 10 days of Ramadan; this is the practise of Prophet Muhammad (SAW). Males sit Itikaf in Masjids and females in the privacy of their own homes, by sitting Itikaf you receive the reward of 2 Hajj and 2 Umras.
Sister Shazia told that when we are fasting the angels ask Allah SWT for our forgiveness all day long and if we die in this blessed month we are considered as the blessed people. The night before Eid-ul-Fitr is the most important nights of all to ask Allah's (SWT) forgiveness, but we tend to forget this because of the preparations of Eid like cooking and shopping. We as Muslims are blessed with the greatest human being in the person of the Holy Prophet (SAW) on earth. We were also blessed with the month of Ramadan. We don't know how lucky we are as Ummah to receive all this.
Sister Shazia also spoke about her work with Minhaj Dawah and how she always has stalls of books, DVDs and CDs for sale and a lot of the books in English literature and Urdu by Shakyh-ul-Islam Dr Muhammad Tahir-ul-Qadri. Sister Shazia also asked the public to donate translated Qurans to prisons for the reward they would get in the Hereafter.
A DVD of talk by Shakyh-ul-Islam was played on the occasion. Sister Rabia MWL (Welfare Secretary of Alum Rock Birmingham) made a speech in Urdu about how fasting has always been obligatory on the Muslims but with different Prophets coming and showing the people to fast in different days until Prophet Muhammad (SAW) was sent who told us how we should fast for the whole month of Ramadan.
Dua was made by Sister Rukhsana Parveen (President of Alum Rock Birmingham). Salam was offered by Sister Umme Habiba Majid.
Reported by Shaheen Akhter MWL (Media Secretary of Alum Rock Birmingham)