MWL Glasgow (Stepps) holds Halaqa-e-Durood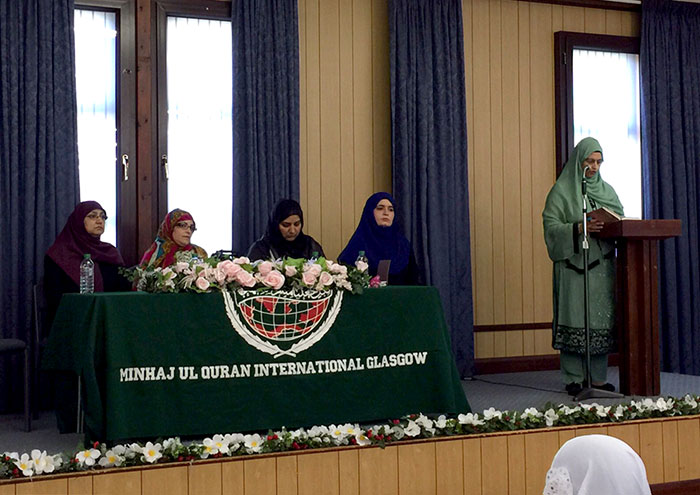 By the Grace of Allah Almighty and through the blessings of the Holy Prophet (peace & blessings be upon him) Minhaj Women League (Stepps) held its monthly Halqa-e-Durood in Bishopbriggs on the 13th August 2015. The programme started with a beautiful recitation of the Holy Quran by sister Nusrat, followed by recitation of Nasheeds in the blessed court of the Holy Prophet (peace & blessings be upon him) by sisters Noshela Ali and Ghuzala Munir.
Sister Shazia then gave a brief introduction on the Halqaaat, followed by Sister Yasmeen Ahmed (President of MWL Scotland) delivering a short speech on Khauf-e-Elahi (Fear of Allah Almighty). Sister Qudsia Munir, member of Muslim Youth League UK-sisters, then gave a brief and an inspirational talk in English on attaining closeness to Allah Almighty and also highlighted how we take many blessings for granted. She further stated; how we should reflect on improving ourselves and focus on the cleanliness of our heart and tongue.
Finally recitation of greetings and salutations were recited upon the Holy Prophet Muhammad (peace & blessings be upon him). The participants were encouraged to recite this silently and also loudly in order to focus their attention upon the recitation of greetings and salutations.
The event was concluded by dua & salam by sister Tasnim Babar (President of Govanhill). The participants had the opportunity to visit the various stalls arranged in order to raise money for MQI centre in Glasgow; the stalls were a huge success. We would like to thank sisters Yasmeen Majid (President of MWL Stepps) and Fozia Ali for their ready-made clothes stalls and would like to extend appreciation to Aneesa Hussain and Urooj Ali on providing homemade cakes, sweets and crisp stalls at the event. A book & CD stall was also available which provided the literature of Shaykh-ul-Islam Dr Muhammad Tahir-ul-Qadri. This was a success amongst the participants.
Reported by: MWL General Secretary Stepps, Scotland