Spiritual gathering held under MQI Manchester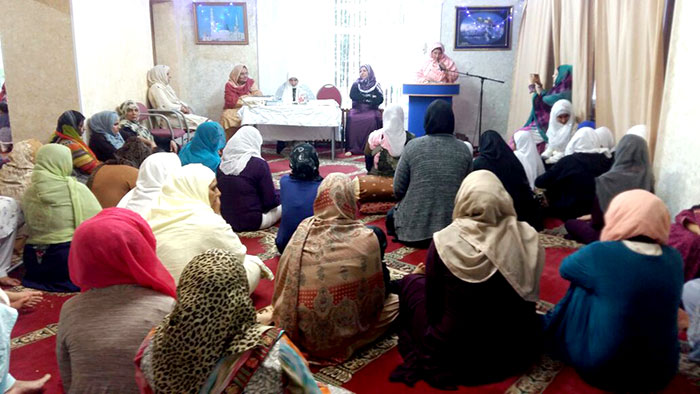 The Ghyarveen Sharif Mehfil took place at MQI Manchester on 17th of June, organised by MWL Manchester. Sister Saima Hussain opened the gathering by inviting Sister Tayyeba Hussain to recite from The Glorious Quran. A beautiful Hamd was recited by Sister Saba Asif to praise the Almighty. To follow on from this a series of melodious Nasheeds were recited in the praise of our Beloved Prophet (may Allah's peace and blessing be upon him) by Sister Abida Bibi, Sister Rifat Kamran, and Sister Shahzada and Sister Hanna. These Nasheeds were received lovingly by all sisters who joined in with the recitation.
As the gathering was to honour Huzoor Ghaus e Azam, Sister Shamime Akhter Saeed, President MWL Manchester, enlightened all with one of the many sacred Miracles of Huzoor Ghouse e Azam (may Allah SWT be pleased with him). She told the story of The King of all Saints' birth. He was born on the eve of Ramadan and kept his first fast on the day of his birth and fasted for the full blessed month.
The following year the appearance of the moon of Ramadan was doubtful due to an overcast sky. However when Huzoor Ghaus e Azam (may Allah SWT be pleased with him) did not drink milk between sunrise and sunset, the arrival of Ramadan was announced to all.
The speaker spoke about the elevated status of Huzoor Ghous e Azam's pious mother, (may Allah SWT be pleased with her), who contributed to the pure and noble upbringing of the King of All Saints. Sister Shamime spoke about how as mothers we have The Glorious Quran, Hadith and the examples of many Saints, to guide us on how to raise our children to be spiritual and of a refined character. She encouraged all sisters to use these beautiful tools to nurture our children to make them grow up as kind and just human beings.
Our honourable guest Sister Sajida Qadri delivered a speech on the virtues of Almighty Allah's Dhikr and explained how 'la Illaha illAllah' is the cure of everything if it is read with a pure and clean intention. This dhikr eradicates all ill actions and intentions from one's heart. The importance of 'niyyah' or intention was discussed, highlighting that everyone's intention should always be to please Almighty Allah.
Sister Sajida Qadri led the Khatam e Ghousia and Dhikr in which all sisters participated. This was followed by a heartfelt Dua. A charity appeal was made to the participants of the gathering and four orphans were sponsored. Food was served to all sisters to mark the end of the gathering.