Ramadan 2015 Halqa-e-Durood & Iftar Gathering held under MYL Ashton-u-Lyne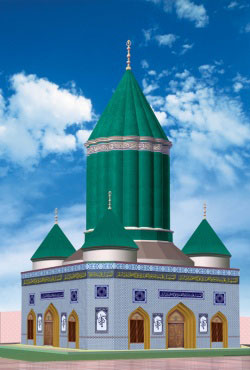 The month of Ramadan is a very special time for Muslims across the globe, as it is a time when people strive harder than ever to please their Lord and gain blessings. Muslims fast from dawn to sunset, abstaining from food or drink for the whole period. This can also be classified as a Jihad in the way of Allah, for inner peace, purification and satisfaction as well as a Jihad against one's lower self also known as Nafs.
This Ramadan, the Muslim Youth League (Ashton-under-Lyne) organised a "Ramadan Halqa-e-Durood & Iftar Gathering" at the Minhaj-ul-Qur'an Centre, Madina Hall, Manchester, on Friday 26th June 2015. The aim of this event was to collectively strive and get closer to our Lord.
The event commenced with recitation of the Glorious Quran and a Nasheed by Brother Shahbaz Hassan Qadri, who with his beautiful voice gave the attendees a spiritual boost.
Thereafter, the attendees participated in a collective recital of sending salutations upon the beloved messenger of Allah (Peace and Blessings be upon him) which was led by Muhammad Ashfaq Warsi. Brother Ahmed-ul-Qadri (Coordinator MYL Ashton) delivered a brief talk in English on the foundations of faith and belief. Brother Shahbaz Hassan Qadri read another Nasheed in the praise of The Holy Prophet (Peace and Blessings upon him).
Then Shaykh Muhammad Haroon Abbasi delivered a motivational and spiritual discourse on the virtues of fasting and the blessings of this virtuous time. This was followed by a final Dua led by Shaykh Muhammad Haroon Abbasi.
The gathering was attended by 110-120 males and approximately 20 females. Iftari was served to all and thoroughly enjoyed. Salat Al-Maghrib was led by Shaykh Haroon Abbasi and a final Dua was made after which the executives and members of Minhaj-ul-Qur'an Ashton and Manchester as well as Shaykh Haroon Abbasi congratulated MYL (Ashton-under-Lyne) for holding a well organised programme which spiritually uplifted the attendees. MYL Ashton's main organisers were Sadiq Hayat, Adam Malik, Shabaz Hassan, Zafran Akhtar and Ahmed-ul-Qadri.
Report by Ahmed-ul-Qadri (MYL Co-ordinator – Ashton-u-Lyne)