Spiritual gathering organized under MQI Bahrain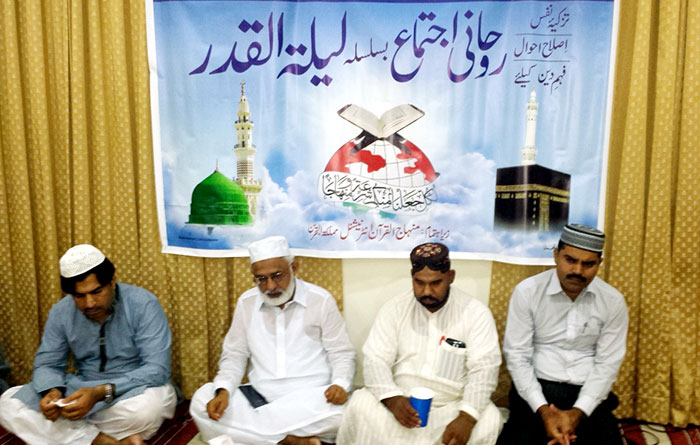 The spiritual congregation was organised by Minhaj-ul-Quran International, Bahrain chapter on 27th night of Ramadan on the 13 July, 2015. The program was designed in two sessions. The first session was planned till mid-night which included recitation from Holy Quran, Hamd, Naat, Khitaab, Zikar and Dua. Refreshment was served after first session. The second session included Salat-ut-Tasbeeh, individual optional prayers and special Dua by Ameer-e-Tehreek MQI Bahrain, Muhammad Ashraf Bhinder, in relation to Laylatul-Qadr. Arrangement of Sahri was also made at the end of second session.
Hafiz Muhammad Abid and Hafiz Muhammad Shahzeb recited the verses from Holy Quran along with the translation from Irfan-ul-Quran. The Naat Khwaan, Malik Shahbaz, Muhammad Sajid, Hafiz Abdul Salam and Syed Shafqat Ali presented excellent and heart touching Hamd, Naasheeds and kalam in relevance to the sacred night. The participants also listened to and benefitted from the lecture of Shaykh ul Islam titled "Ikhlass Kya hy".
Mr. Muhammad Ashraf Bhinder, Ameer MQI Bahrain and Mr. Faiz ul Hasan, former president and vice-amir were the chief guests of the program.
The congregation was attended to by a large number of participants from Indian, Pakistani and Bahraini community, with their hearts filled with love of Allah SWT. A number of children and women also were present in this prestigious program.
Among other guests were Zahid Mahmood, Yahya Javed, Malik Muhammad Shahid, Malik Shahbaz, Prof. Ghulam Mustafa, Zafar Mumtaz, Ehsan ul Haq and Muhammad Altaf Memon.
The program organizing team included Abdul Qader Basha, Hafiz Shahzeb, Hafiz Abid, Hafiz Abdul Salam, Muhammad No'man, Riasat Ali.
Report by: Syed Shafqat Ali (Sec. Gen. MQI Bahrain)