Terrorism common threat of whole humanity: Dr Tahir-ul-Qadri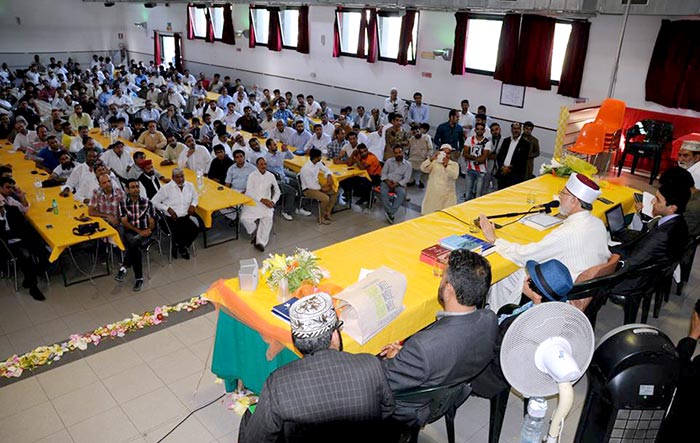 A prestigious Workers Convention was organized under the banner of Minhaj-ul-Quran International Italy chapter on August 06, 2015. Shaykh-ul-Islam Dr Muhammad Tahir-ul-Qadri, the founding leader of MQI, was the chief guest on the occasion. A large number of PAT and MQI workers from across Italy and the members of the Pakistani Diaspora community attended the Convention in large number.
The proceedings of the Workers Convention got underway with recitation from the Holy Quran followed by Naat. Muhammad Iqbal Chaudhry, the President of MQI Italy, delivered his welcome address in which he thanked the guests for taking time out to attend the Convention. Muhammad Afzaal Sial presented the progress report of the Italy chapter of last one year.
Dr Muhammad Tahir-ul-Qadri, who is on organizational tour of Europe, gave his keynote talk to the participants of the Convention. He threw light on the Islamic Curriculum on Peace and Counter-Terrorism in great detail. He said that terrorism is not merely the problem of the Muslim world but of the whole humanity. He said that the terrorists have brought the fair name of Islam into disrepute to get political power and economic gains. He said that we are engaged in an unrelenting struggle to present the real and true face of Islam to the world by removing the blot of terrorism from its face. He said that it is responsibility of every member of the Muslim community to play his/her role in elimination of terrorism. He demonstrated his resolve of exposing terrorism and promoting peace in the world.