Spread of knowledge key to eliminating terrorism & extremism: Dr Tahir-ul-Qadri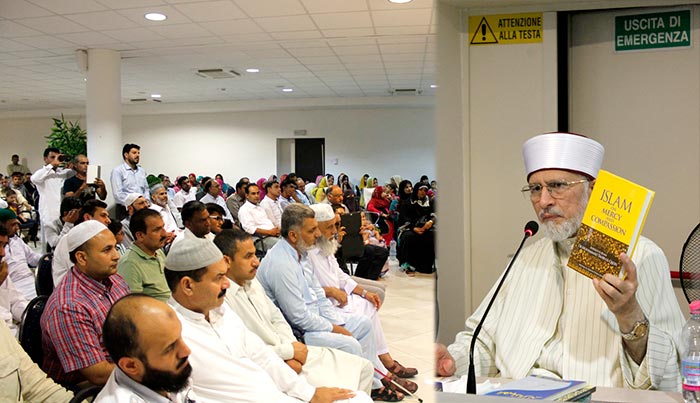 A ceremony was held under the banner of MQI North Italy in which Islamic Curriculum on Peace and Counter-Terrorism was launched. The founding leader of MQI Shaykh-ul-Islam Dr Muhammad Tahir-ul-Qadri was the chief guest on the occasion. He held a meeting with the PAT and MQI workers on the occasion and gave away appreciation certificates and awards to the best performing workers.
The ceremony was held in a local hotel which was attended by the PAT and MQI workers and the members of the Pakistani Diaspora community in large number. The proceedings of the programme got underway with the recitation of the Holy Quran by Habib-ur-Rehman followed by Naat presented by Haji Muhammad Ilyas. Umar Farooq, General Secretary MQI North Italy, conducted the proceedings of the event.
Shafqat Cheema, Syed Saqlain Shah, Arshad King, Raja Zia, Ghazan Hussain, and other senior leaders warmly welcomed Dr Muhammad Tahir-ul-Qadri on his arrival. They presented him bouquet of flowers. Ijaz Warriach, President of Minhaj European Council, and Bilal Uppal, General Secretary Minhaj European Council, were also with Dr Qadri. Those of the MQI workers who took active part in the political activities starting from reception of the Quaid to the revolution were awarded with appreciation certificates and awards on the occasion.
In his exclusive chat to the participants of the meeting, Dr Muhammad Tahir-ul-Qadri mentioned the services and contributions of the MQI in eradication of terrorism and tackling of extremism. He also introduced the Islamic Curriculum on Peace and Counter-Terrorism, saying that the course has been designed in three languages, which would go a long way in de-radicalizing the youth. He said that the curriculum caters to the specific requirements and mental calibre of different audiences.
Dr Tahir-ul-Qadri identified terrorism as the global issue, saying that the concerted efforts are required to eradicate this menace. He said that the terrorists have given a bad name to Islam through their terrorist activities. He said that religious curriculum taught in seminaries does not contain even a single chapter on peace and promotion of interfaith harmony. He said that unless educational institutions are turned into centres of excellence and hub of knowledge, extremism and by extension terrorism would not be tackled successfully. He further said that terrorism cannot be eliminated without addressing its root causes.
Dr Tahir-ul-Qadri shook hands with every all the participants of the programme at the end.