MQI (Dallas) holds special Nasheed spiritual gathering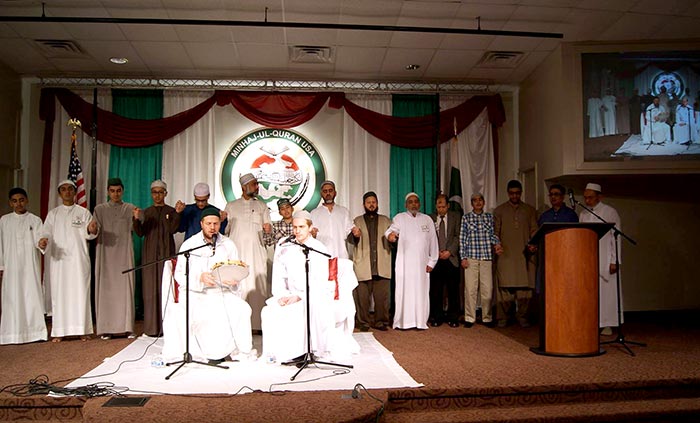 On the blessed evening of Saturday, March 28th, 2015 Minhaj ul Quran Dallas organized a family gathering of Islamic spiritual odes and poetry in the praise of our beloved Prophet (SAW) with religious zeal. The celebration took place in the beautifully decorated "Uways Al Qarani" Auditorium Hall of Jame' Hasan al-Basri and Minhaj-ul-Quran Community Center.
The evening started with Minhaj Youth League Coordinator Hashir Siddiqui, who was the Master of the ceremony, welcoming the audience and the guests of honor nasheed reciters from Syria, Muaz and Ibrahim al Naas.
Ibrahim Al-Nass enthralled the audience with his recitation of verses from Surah al-Hujurat and al-Fath from the Holy Quran.
Next, Hashir Siddiqui explained the story and relevance of 'Qaseeda Burda sharif' and the benefits of reciting it. Shortly afterwards, Masood Hussain, who is the vice president of Minhaj-ul-Quran Dallas, addressed the guests present at the event with a very warm welcome note and introduced the guests of honor. He kindly suggested for all present to branch out to more members in the community.
Soon after the welcome note, the guests of honor, the renowned munshids, took the stage. They recited the praises of the Holy Prophet (SAW) in the most alluring and eloquent manner. With their exquisitely precise qirat, they captivated and moved the audience to tears with the remembrance of the beloved Prophet (SAW). They recited heart touching nasheed in Arabic. The audience was entranced as well as engaged in their recitation.
Minhaj Youth League coordinator Mobeen Mian shared some brief information of Hadrah. His personal experience deeply connected with the audience.
Imam Shaykh Abdul Basit delivered a speech on the esteemed status and love of the Holy Prophet (SAW) and also gave examples of the Companions of the Holy Prophet (SAW) who used to recite nasheeds in the praise and the love of the Holy Prophet (SAW) and mentioned that there were 143 Companions of the Holy Prophet (SAW) that have recited praises and odes in the love of the Holy Prophet (SAW). He also described the importance and technique of participating in Hadrah.
For the first time in history, in the Uways Al Qarani Auditorium, the audience and the Minhaj-ul-Quran Dallas members performed Hadrah with the Munshids leading. The beautiful praises of our honored Prophet (SAW) filled the hall. The evening slowly started to wrap up with a final sending of salaam on our beloved Prophet (SAW) and dua .
A book stall was also set up and the books written by Shaykh-ul-Islam Dr Muhammad Tahir-ul-Qadri and free CDs of his lectures were distributed to audience. All participants were provided dinner boxes after the program.