Peace essential ingredient of Islam: Dr Tahir-ul-Qadri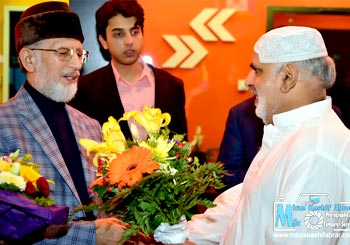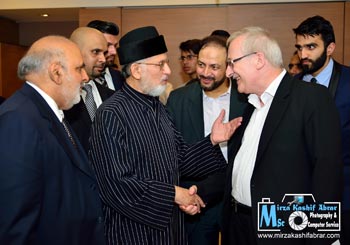 Accompanied by MQI Supreme Council Chairman Dr Hassan Mohi-ud-Din Qadri and Sahibzada Hammad Mustafa Qadri, PAT Chairman Dr Muhammad Tahir-ul-Qadri visited Austria from August 26 to August 28. The office holders and workers of MQI Austria gave a warm welcome to their leaders at the airport.
During his two-day stay in Vienna, Dr Tahir-ul-Qadri held meetings with office holders and workers of MQI, PAT and other forums. Talking in these meetings, he said that Islam is all about peace, love and compassion. He said that the very name of our faith 'Islam' is enough to impress upon us the importance of peace as the word denotes the same. He said that Allah Almighty is the God of the whole universe and the Holy Prophet (SAW) is the Prophet of mercy for all the worlds irrespective of distinction of creed, colour, caste and race. He said that the blessed life of the Holy Prophet (PBUH) is characterized by fortitude, patience, empathy and forgiveness. He said that Islam always taught us the lesson of love, harmony, moderation and tolerance.
Addressing a reception given by the workers in the honour of their leader, MQI Supreme Council Chairman Dr Hassan Mohi-ud-Din Qadri said that Shaykh-ul-Islam Dr Tahir-ul-Qadri is playing the role of a revivalist. He said that he is defending Islam through interpretation of the holy Quran and Hadith. He said that Islamic Curriculum on Peace and Counter-Terrorism is a special initiative of Dr Tahir-ul-Qadri for establishment of harmonious interfaith relations and peace.
In recognition of their service to MQI and propagation of its message of peace, PAT Austria President Khawaja Muhammad Naseem, MQI Austria President Muhammad Naeem Raza Qadri, Secretary General Umair Altaf, and Malik Ameen Awan were awarded Nishan-e-Minhaj. Appreciation certificates were distributed among others as acknowledgement of their contributions.
Dr Hassan Mohi-ud-Din Qadri and Hammad Mustafa Qadri visited the Minhaj-ul-Quran Centre Austria. They reviewed the progress of various departments during the visit and appreciated the efforts of the local chapter. They emphasized unity in the ranks and complete dedication to work for promotion of peace and interfaith harmony.