MQI represented at Interfaith Workshop in Philippines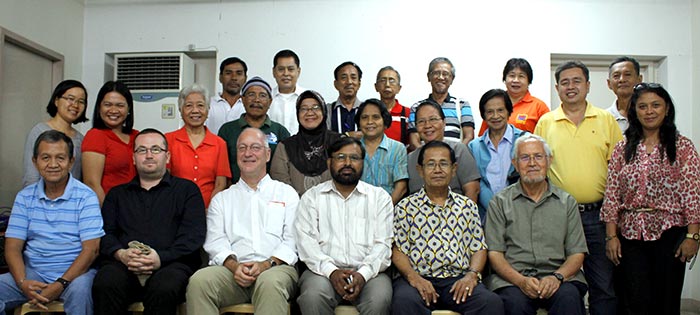 Sohail Ahmad Raza, Director of Interfaith Relations, represented MQI in the ten-day Interfaith Harmony Workshop on the invitation of Silsila Dialogue Movement and Religions Council of Philippines. The Workshop was held in the Harmony Village of famous island 'Zamboanga' of Philippine. The event was attended by faith leaders from Italy, Pakistan, Austria, Bangkok, Germany, Malaysia and Philippines. Mr. Sebastiano D Ambara, the head of Silsila Dialogue Movement, welcomed Sohail Ahmad Raza at the airport.
The Workshop was structured around a number of activities and promotion of relations between Muslims and Christians was the special theme of the event. Sohail Ahmad Raza gave presentations in different institutions regarding Dr Tahir-ul-Qadri's efforts and initiatives to promote goodwill and harmony among various faiths, ward off any possibility of clash of civilizations and eliminate terrorism and extremism from the world. He particularly focused on Islamic Curriculum on Peace and Counter-Terrorism in his discussions and presented Fatwa against Terrorism authored by Shaykh-ul-Islam as gift to many renowned personalities.
During his visits to a number of educational institutions, Sohail Ahmad Raza exchanged views with his hosts on matters of mutual interest. He particularly held meetings with the Muslim families residing in Philippines and introduced them to the services and contributions of Dr Tahir-ul-Qadri for promotion of peace, interfaith harmony and dialogue, the books he has authored and the speeches he has delivered. He particularly highlighted his struggle for human rights in general and women rights in particular.
Various faith leaders paid rich tributes to the PAT Chairman for his multifarious services on the occasion and expressed the desire that they wanted to host Dr Qadri in Philippines. They said that Dr Tahir-ul-Qadri's philosophy and ideals can play an important role for establishment of peace in the world. They said that they wanted to spread his message of peace in their land so that the humanity could be spared the horrors of terrorism and extremism.