Peace Procession marks the birth of the Prophet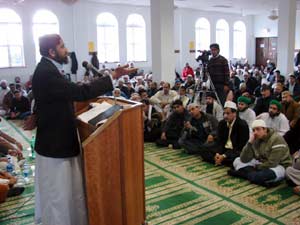 THE East London Mosque Forum held its fourth annual Peace Procession through the streets of the London Borough of Barking & Redbridge on Sunday 30th March 2008 to mark the noble birth of the Prophet.
Minhaj al-Quran International centre in Forest Gate, Al-Madina Mosque in Barking and Albert Islamic Centre in Ilford were among religious and community organisations to participate in the event. Faith leaders, residents and politicians from across London also took part in the event. Including Newham's longest serving Imam, Mawlana Riaz Ahmad Samdani of Jamia Mosque on High Street North in East Ham, Imam Muhammad Sadiq al-Qurayshi of Minhaj al-Quran centre on Romford Road in Forest Gate, al-Hafiz al-Qari Jamsed Ahmad al-Saeedi of Jamia Mosque on Albert Road in Ilford, Imam Ijaz Ahmad al-Nehrwi of Jamia Muhi al-Islam Siddiqia on Barking Road in East Ham, Shaykh Sana Ullah Sehthi of Al-Habib Mosque on Barking Road in Canning Town, al-Haj Muhammad Siddiq chairman of Barking Muslim Association on Victoria Road in Barking and al-Qari Muhammad Tariq Mahmud of Al-Hira Sultan Bahu Trust on Plashet Road in Upton Park.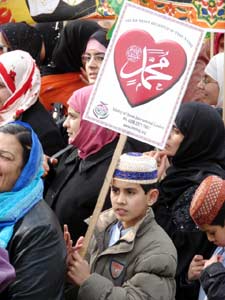 The procession commenced from Jamia Mosque on Albert Road in Ilford making its way down Ilford Lane to Al-Madina Mosque on Victoria Road in Barking. Thousands of people turned out to mark the birth of the Prophet with recitation of vigils, litanies and distribution of food as the crowds chanted and sung songs in praise of the Prophet.
Hundreds carried placards portraying a symbolic heart with "To us most beloved is this name" and "Muhammad" inscribed in Arabic text. The theme of the placard is said to be idea of the renowned scholar Shaykh al-Islam Muhammad Tahir al-Qadri. Devotes also carried banners and flags depicting the blessed sandal of the Prophet as the procession reached the huge gates leading to the entrance of the Al-Madina Mosque.
East London Mosque Forum consists of sixteen mosques and Muslim organisations officially invited Shaykh Sadiq al-Qureshi, Imam of Minhaj al-Quran International centre as the chief guest to their event. Shaykh Sadiq Qureshi, told listeners: "I am honoured to be here with you today at this unique event, which is being held in honour of the best of creation Prophet Muhammad." Shaykh Qureshi is also the ex-Imam of Al-Madina Mosque, told listeners: "Let us see this as an occasion to rejoice in the mercy to all of mankind, an occasion for us to not only celebrate by expressing love and affection but to also contemplate on the message of the Prophet".
The sacred Islamic month of Rabi al-Awwal comes to an end at the beginning of April. Celebrations of the Mawlid festival often continue into the Islamic lunar month of Rabi al-Thani.
Muhammad Asif Shakoor
External Affairs Department
Minhaj al-Quran International Centre
London, UK