Paris attacks: Geelong Imam Muhammad Ramzan condemns ISIS attacks at city's vigil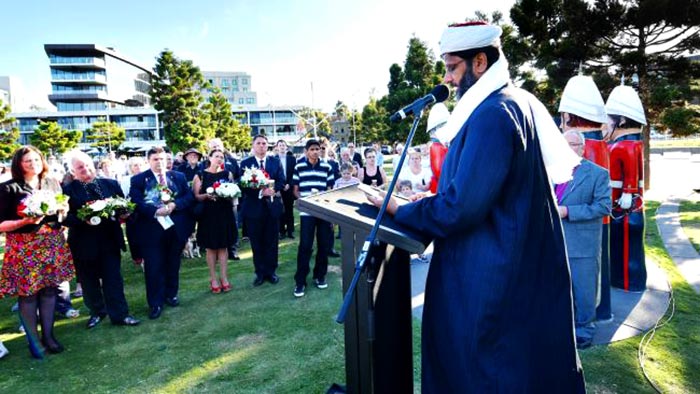 Geelong Imam Mohammad Ramzan speaks at the city's vigil for Paris. Pictures: Nigel Hallett
GEELONG Imam Muhammad Ramzan distanced peace-loving Islam from terrorism and denounced Isis as "filthy dogs" at a candlelight vigil for France last night.
He spoke alongside Christian ministers as about 100 people gathered in Steampacket Gardens, bowing heads and baring hearts for the people of Paris.
Imam Ramzan expressed sorrow for events in the US, London, Paris, Iraq, Syria, Lebanon, Afghanistan and Pakistan.
"Before we are Muslim, or Christian, or Jew or Hindu or Sikh, or no religion, we are human beings," he said.
The Koran taught that if someone killed one person "it is like he has killed all of ­humanity".
"These are the basic fundamental teachings of Islam and this beautiful religion is distorted by some people and they are trying to snatch this beautiful and peaceful religion from us," Imam Ramzan said.He said a terrorist could not be a Muslim and a Muslim could never be a terrorist.
"I would like to say that before anyone blames Islam or Muslims for the crimes of the IS, Isis in Paris or elsewhere in the world he should rem­ember that Isis has killed over half a million Muslims in the past two years in different countries, in Iraq and Syria," he said.
"They do not represent the views of Muslims at all. It is important that the Muslims do all they can to help destroy the filthy dogs of Isis. If the whole Muslim world condemns the atrocities it is not enough."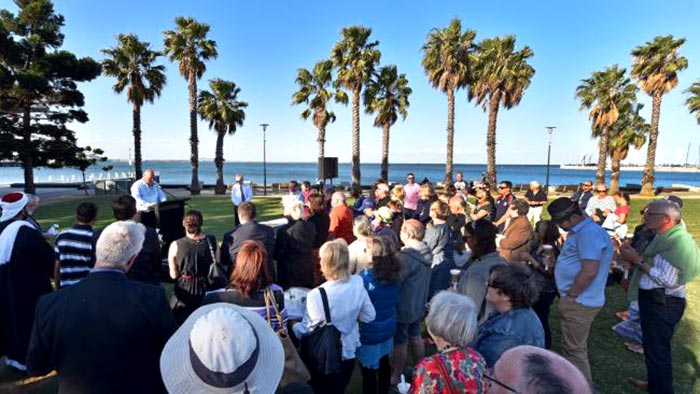 Geelong locals attend the service for Paris on the waterfront.
Bishop Peter Danaher of Newtown's All Saints Church led the service. Rev Peter Gador-Whyte, of Yarra St Uniting Church, and Le Parisien restaurateur Jean Paul Temple also spoke.
Later wreaths laid by community leaders were shifted to a makeshift shrine at Le Parisien.
Frenchman Fabrice Pilon, who has lived in Geelong for 19 years, attended the service with his wife Sonja.
He said he had been in Paris six weeks ago. A friend of a nephew was among those killed in the weekend atrocity and a brother was involved in the civic response.
He had felt shock, loss, hopelessness and anger.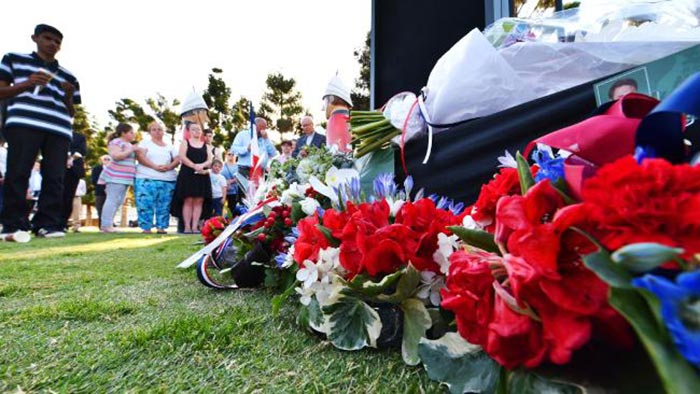 Flowers at the makeshift memorial.
"I sent my brother, who is still living in Paris, photos of what is happening on the other side of the world," he said.
Sisters Isabella and Alexandra Stanley wore their T-shirts bearing the words "C'est La Vie". Mum Nikki said they felt an emotional connection having spent three weeks in Paris.
"We're very sad because it really won't be like that again," Isabella, 8, said.
Federal Member for Corangamite Sarah Henderson convened the gathering, attended by Member for Corio Richard Marles, Member for South Barwon Andrew Katos, Geelong Mayor Darryn Lyons and G21 chief executive Elaine Carbines.
Marjorie Pascal-Pretre of Alliance Francaise de Geelong invited people to join French community members for another vigil in Johnstone Park from 8pm Tuesday night.
Source : http://www.geelongadvertiser.com.au/news/geelong/paris-attacks-geelong-imam-mohammad-ramzan-condemns-isis-attacks-at-citys-vigil/news-story/10a842260373216539c83ace9043f321