MQI (Nottingham) holds annual Muharram programme 2015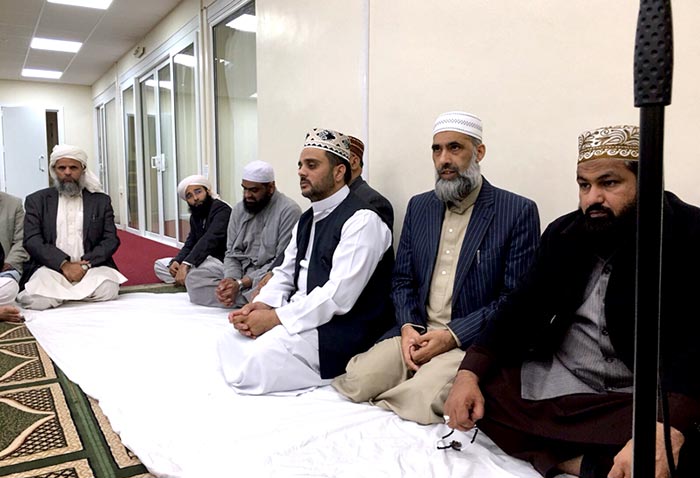 MQI (Nottingham) organised the annual Muharram Programme which was held on Thursday 21 oct 2015 to reflect on and remember the great sacrifices of Hazrat Imam Hussain (AS) and his family and friends.
This programme was hosted at Bobbersmill Community Centre, Masjid Ash-Shifa from 7-9pm. This programme was broadcasted live on radio dawn 107.6fm.
Our chief guests were President MQI UK, Allama Syed Ali Abbas Bukhari, Dr. Musharraf Hussain Al Azhari, President Jamaat Ahle Sunnah Nottingham, Allama Hassan Jamil, Mufti M Ismail Sahb, Qari Naseer, General Secretary Midlands zone, Tanvir Pasha and other Ulama from Nottingham.
The programme was hosted by MQI Nottingham General Secrethu8ry Fazil Khan. It started with the beautiful recitation from the Holy Quran by Nottingham's famous Qari Ameer Hussain Al-Azhari. This was followed by Hamd and Naats by local Naat Khuwans.
MQI Nottingham Brother Akmal Hussain welcomed the guests and spoke about Shaykh-ul-Islam's unforgettable contribution for the Muslim Ummah. He said in the last half century whenever the Ummah needed guidance and answers of the most critical questions Shaykh-ul-Islam gave a solution.
This was followed by the speech given by our honourable guest Allama Syed Ali Abbas Bukhari in which he spoke about Karbla. He said that this is an unforgettable occasion in the history of Islam. Every martyr is honoured in the sight of Allah SWT, but the special place given to Imam Hussain (AS) no martyr can get because this sacrifice was the sacrifice rendered for Islam.
The programme was ended with a Dua in remembrance of the martyrs of Karbla. A huge crowd of brothers and sisters were present in this programme. This was one of the programmes that was organised by JAS Nottingham for the ten days of Muharram and were hosted in 12 various Mosques in Nottingham. MQI Nottingham Dawah Team put up a book stall in this program and other editions during Muharram. All the members and volunteers were present in this programme. Refreshment was served at the end.