USA: Milad un Nabi (PBUH) Conference organized in New Jersey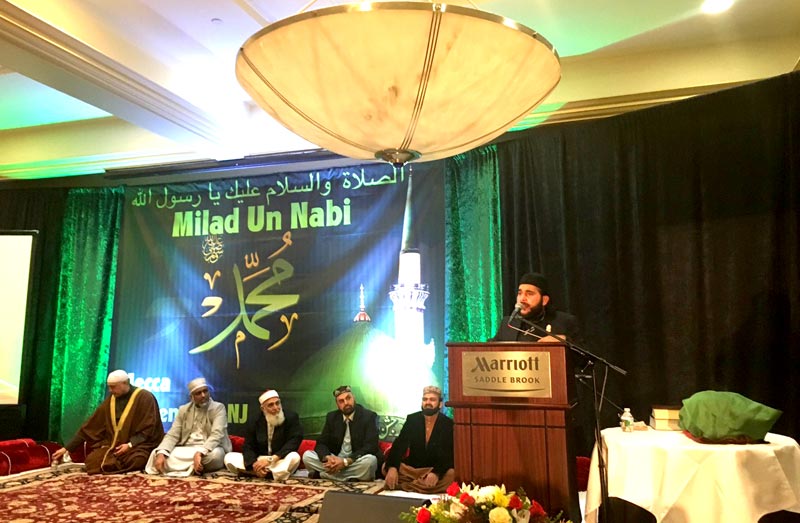 Annual Milad un Nabi Conference was organized by Minhaj-ul-Quran Educational and Cultural Center New Jersey at Marriot Hotel Saddle Brook NJ on Dec 26, 2015.
The ceremony started with the recitation of the Holy Quran by Qari Muhammad Saleem Qadri and Qari Zaheer Ahmad Qadri of Denmark. After recitation, the students of Minhaj-ul-Quran Sunday school gave beautiful presentations. Beautiful Naats were presented by M Asghar Sofi of New Jersey, Shaukat Ali, Muneer Ahmad, M Arshed, Maryah Mudan, M Iqbal Shaikh, Alhaj Fasihuddin Soharwardi and Saleem Sheikh.
The conference was presided over by respected Basheer Shaikh and Khawja Hafeez Ahmad. The hosts of the ceremony were Allama Saeed-ul-Hassan and Allama M Sharif Kamalvi (Director Minhaj ul Quran Center NJ).
Guest speakers were Shaykh Abdul Basit Al-Azhri of UK, Shaykh Mutaz Charaf, Allama Zaheer Ahmad Qadri of Denmark and Allama Afzal Ahmad Qadri. Guests gave a heart melting speeches in the honour of the Beloved Prophet (peace and blessings be upon him). They explained the greatness of the Holy Prophet (SAW) in the light of the Quranic verses and Hadith. Allama Afzal Ahmad Qadri said this is a lesson taught by his teacher Dr. Tahir ul Qadri. He said that today, the need is to follow the life of Prophet (SAW), which cannot be attained without utmost respect and reverence for him. His (peace and blessings be upon him) teachings and sayings should be followed without any sectarianism.
The management of the conference, Ali, M Amjad Sheikh, Khawaja M Ali, Rana M Muzammal and other volunteer men and women worked tirelessly to make this ceremony successful. A large number of people attended the ceremony. Sheikh Motaz Charaf, a renowned scholar in New Jersey also shared his words of love and wisdom. The ceremony was also honoured by the presence of Mu-e-Mubarak (Hair of Nabi (peace and blessings be upon him)). The conference ended with a heart touching Dua by Allama M Sharif Kamalvi.