Hong Kong: Solution of Pakistan's problems lies in peaceful revolution: Dr Hussain Mohi-ud-Din Qadri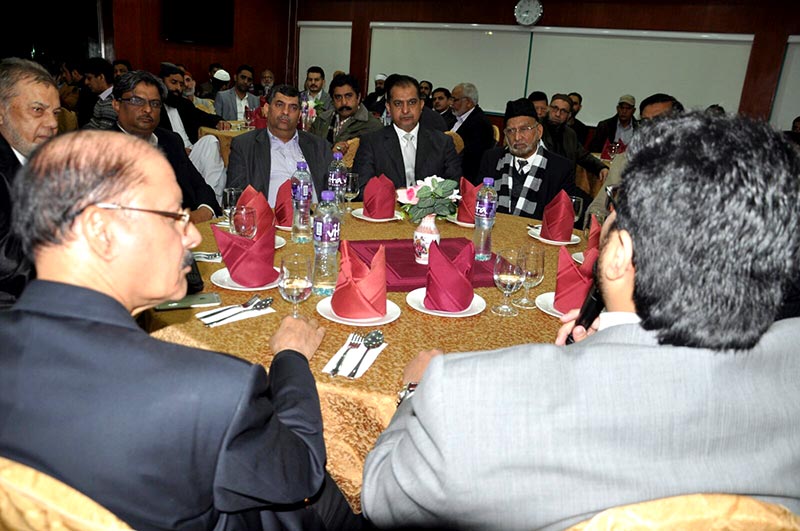 Pakistan Association of Hong Kong hosted a sumptuous dinner in the honour of Dr Hussain Mohi-ud-Din Qadri at the Pakistan Association Club on January 8. In addition to Dr Hussain, Amjad Niaz, Secretary General MQI Hong Kong, Muhammad Sikandar Bacha, Chairperson MQI Hong Kong, Haji Muhammad Najeeb, President, Nawab Ali from Pakistani Consulate, Ashfaq Bhatti, Tahir Mahboob and Muhammad Aamir, Haji Muhammad Qamar Zaman Minhas, Chairman Board of Trustees, Ch. Iftikhar Hussain, Chairman of Pakistan Traders' Association, Ch. Muhammad Ilyas, President of PTI Hong Kong, and a large number of Pakistanis attended the dinner.
The proceedings of the programme underway with the recitation of the Holy Quran by Sabir Hussain Sabri followed by Naat which Ghulam Murtaza Qadri from Oman had the honour of reciting.
Talking to participants of the dinner, Dr Hussain Mohi-ud-Din Qadri said that new mischiefs are emerging today and evils are taking new shapes. He said that we need to revise our approaches to eliminate evils as well. He said that MQI has been engaged in struggle against injustice and evil of every kind, terrorism, extremism and corruption. He threw light on the problems facing Pakistan in great detail and said that the only solution to the multiple crises lies in peaceful and soft revolution. He also responded to questions of the participants on the occasion.