Bahrain: Annual Sirat-un-Nabi (PBUH) Conference held under MQI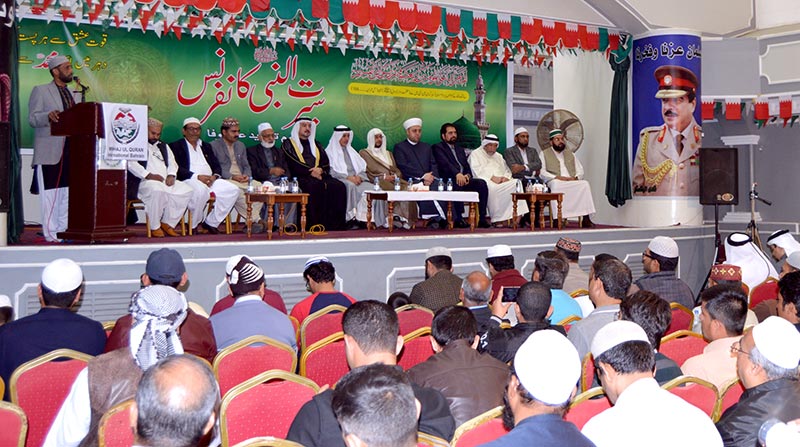 Annual Sirat-un-Nabi (peace be upon him) conference was organized by Minhaj-ul-Quran international Bahrain to celebrate birth anniversary of the Holy Prophet (peace be upon him) on 31st December 2015 in Manama, the capital of Bahrain, at Pakistani club.
Shaykh Ebrahim Bin Rashed Al-Muraikhi, President of the High Sharee'a court of Appeal, was the chief guest at the conference. Shaykh Sameer Abdul Rahman Al-Fayez, Dr. Murad Abdullah Al-Janabi, Shaykh Khalil Banshi, and Ahmed Ebrahim Al-Jowder also accompanied him in this program
Mr. Muhammad Amin, Director – Orta Ana Dolu Textile (Turkish textile group) was guest of honour in the conference.
Guests who travelled from other countries included Mian Ghulam Murtaza Murtazai, Professor Muhammad Amin Tahir, Professor Sajid Hussain and Mr. Fakhar uz Zaman. Other guests included Muhammad Sajid Khan, Fakhar Al Islam Malik, Professor Ghulam Mustafa, Muhammad Ashraf.
Shaykh Khalil Banshi (Qari from Syria) recited verses of holy Quran in a beautiful manner. Shaykh Sameer and Shaykh Murad with other companions recited nasheed.
Guest speakers, Muhammad Amin and Professor Muhammad Amin Tahir, delivered excellent speeches describing the Sublime Status of The Holy Prophet (peace be upon him) with references form the Holy Quran and Ahadeeth.
Hafiz Muhammad Sohail performed the responsibility of moderator of the program. Amongst the Naat Khwaan were sisters Zuha, Suha and Fidda, Muhammad Mudassar Mustafa, Waseem Sultani, Bilal Ahmed, Hafiz Muhammad Zahid, Sajid Bahoo, Ashfaq Ahmed Bhatti, Prof. Sajid Hussain, Muhammad Waqas and Abdus Salam
The conference was jointly presided by Mr. Muhammad Ashraf Bhinder (Ameer-e-Tehreek Bahrain) and Mr. Faiz ul Hassan (Vice Ameer-e-Tehreek Bahrain).
Organizing committee included Zahid Mahmood (President, MQI Bahrain), Abdul Qader Basha (Nazim Halaqa-e-Durood), Syed Shafqat Ali (Secretary General), Ehsan ul Haq (Secretary Membership), Zafar Mumtaz, Hafiz Abdus Salam, Hafiz Abid Hussain, Hafiz Shahzeb, Noman Zafar, Matloob Ahmed.
People from Bahraini, Indian, Pakistani, community participated in large number. People participated with families and a large number of ladies and children were also present. The
Conference was covered by media representatives and local newspapers published the report of this auspicious Sirat-un-Nabi (peace be upon him) conference. The guests were served with Ziyafat-e-Milad at the end.