MQI Austria organizes Milad Peace March & Conference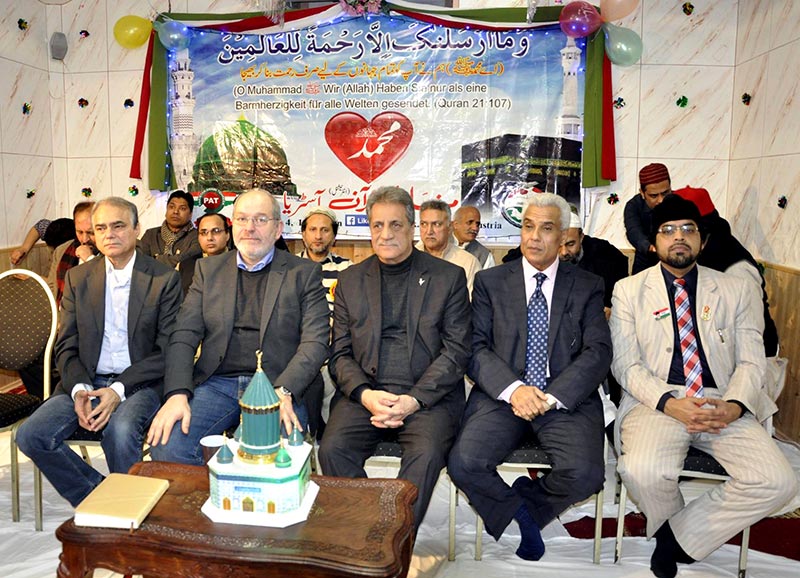 In Vienna, the capital city of Austria, Minhaj-ul-Quran International (MQI) Austria organized a magnificent annual Milad Conference along with historical "Milad Peace March", which was attended by a large number of people including women and children. People belonging to various walks of life were part of the Conference. Allama Mudassar Awan was the guest speaker on the occasion.
The event was superbly organized under supervision of Alhaj Khawaja Nasim (President PAT), and was presided over by Malik Amin Awan (President MQI Austria). The Milad Peace March was directed by Syed Bawa Ali Ghazanfar Shah and M Naeem Raza Qadri. Mr. Imran Ali Mughal anchored the program nicely.
During "Milad Peace March", Alhaj Khawaja Nasim spoke in German language about the peaceful message of Islam. Maulana Ghulam Mustafa Bloch, Professor Azhar Sialvi and others also expressed their views on the occasion. The local people observed the whole procession through their windows and balconies.
In the Milad conference, Syed Abdul Raman, Faizan A. Raza Qadri, Ubair Awan, Zubair Awan, Haji Akbar, Hafiz Naeem (from Horn), Mr. Shehryar Khan and poet G.M. Naeemi (President Minhaj Naat Council Austria) recited Naats. Mr.Afsar Rathore (UNO officer), Prof. Dr. Lohlker (the Dean of Interfaith Faculty at the University of Vienna), parliamentarian Mr. Omer Al-Rawi, Dr. Fuad Sanac (President Muslim Union in Austria) and Dr Hassan Musa (Egyptian scholar) also shared their thoughts on the occasion. Mr. Umair Altaf (President MYL Austria) spoke to the audience in German whereas Allama Mudassar Awan delivered a speech in English and Urdu language. Mr. Malik Amin Awan delivered a thank-you note to participants.
After Umrah Ticket draw, A Milad cake was cut amid the echoes of Durood o Salam. The event reached its logical conclusion with a special prayer peace, stability and interfaith harmony. Milad feast was also arranged as well.
In order to decorate and organize the MQI Center, Imran Mughal, Abu-Sufyan, Zahid Ghani Chohan, Zoheb Hassan, Malik Ejaz Rashid, Zubair Altaf, Faisal Riaz, Suleman Siddique, Malik Muhammad Shafi, Chaudhry M. Asif, Shahzeb Ali, Bilal Khalid, Adnan Malik, Bilal Cheema, Afaq Akbar, and Farooq Akbar etc. rendered their special service. Dinner was prepared and served by Sheikh Mehboob Alam, Haji Nasim Malik, Haji Aslam Multani, Muhammad Sadiq, Arif Bhatti, Bilal Khan, Nadeem Afzal and Ashfaq Mitha. The event was photographed by Mr. Fried Athar.
Along with large community of Vienna, the event was attended particularly by the MQI members and other dignitaries from City Graz, City Linz, Salzburg and Horn city.