A British delegation visits Central Secretariat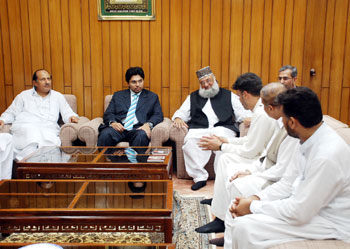 Translated by: Amanat Ali Chaudhary

On July 18, a British delegation of local government visited the central secretariat of Minhaj-ul-Quran International. Principal Secretary to Shaykh-ul-Islam and Director Foreign Affairs G.M. Malik and Registrar Minhaj University Col. (r ) Muhammad Ahmad received the guests. The delegation comprised of Maqsood Ahmad; senior advisor on Muslim communities, Dr M. Muqaddam; Principal Madani School, Muhammad Abdul Aziz and Tehseenullah Khan.

Director Foreign Affairs conducted the respected guests to different Directorates and departments of MQI including Directorates of Foreign Affairs, Minhaj Welfare Foundation, Communication and Broadcasting, Sale Centre, Productions, Minhaj Internet Bureau etc. The delegation also held a meeting with Sahibzada Hussain Mohi-ud-Din Qadri, member of the Supreme Council of MQI. Central Amir Sahibzada Miskin Faiz-ur-Rehman Durrani, Brig (r ) Muhammad Iqbal, acting Nazim-e-Ala Sheikh Zahid Fayyaz, G.M. Malik and Col (r) Muhammad Ahmad also attended the meeting. The delegation put forward a number of queries which Sahibzada Hussain Mohi-ud-Din Qadri answered satisfactorily. Sahibzada Hussain Mohi-ud-Din Qadri said Minhaj-ul-Quran International is working for inter-faith harmony, peaceful co-existence among religions, peace and brotherhood and elimination of militancy and terrorism under the inspiring leadership of Shaykh-ul-Islam Dr Muhammad Tahir-ul-Qadri.

He said MQI has presented the best model of Islam in accordance with the demands of the contemporary world thus drawing the youth to acquire modern and Islamic education to address the multiple challenges.

The delegation paid a glowing tribute to Shaykh-ul-Islam Dr Muhammad Tahir-ul-Qadri for his international services in numerous fields.