First MYL UK National Youth Council Meeting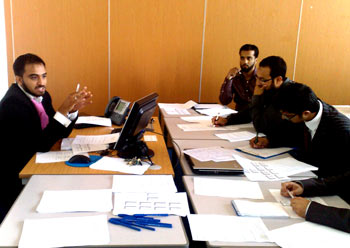 The Muslim Youth League (MYL) in the UK has been reformed and restructured, the process of which was initiated in an MYL UK meeting with Shaykh-ul-Islam Dr Muhammad Tahir-ul-Qadri two weeks ago. In that meeting Shaykh-ul-Islam announced the basic structure that will be followed by the new MYL UK. He announced Tahseen Khalid from Sheffield as the new president of MYL UK. He also declared Tanzeem Begum from Birmingham as the President of MYL UK (Sisters).
According to the instructions of Shaykh-ul-Islam the new MYL UK began its work and had its first quarterly meeting of the MYL UK National Youth Council (NYC) on Sunday 10th August 2008, at Aston University, Birmingham. Brothers and sisters had separate meetings.
President MYL UK Tahseen Khalid chaired the brothers meeting.
Delegations and representatives of MYL UK had attended the meeting from Glasgow, London, Bradford, Nelson, Halifax, Sheffield, Birmingham, Oldham, Walsall, Luton.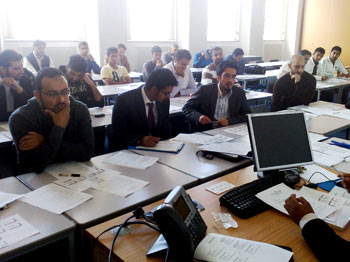 President MYL UK Tahseen Khalid gave a background to the meeting and gave a briefing on the progress since the meeting with Shaykh-ul-Islam two weeks ago. He announced the he had filled six positions in the MYL UK executive, with which he had a meeting last week and had been jointly taking things forward with them.
The president said that further additions to the executive can be made from those present here today. He said he wanted to add somebody from London as there are many deserving people in London who should be on the executive. Imran Younis from London was nominated and unanimously accepted by the house to be on the executive.
The full MYL UK executive consists of:
President: Tahseen Khalid (Sheffield)
General Secretary: Riza Akhtar (Glasgow)
Information Secretary: Moazam Raza (Nelson)
Public and Community Relations: Usman Riaz (Halifax)
Research and Development: Imran Younis (London)
Finance Secretary: Shaheeb Hussain (Sheffield)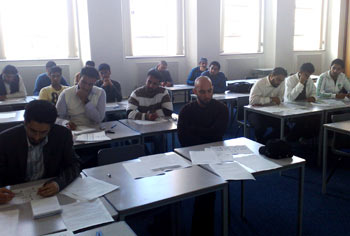 The meeting lasted just over 3 hours in which the MYL Executive members gave a briefing on what their roles will entail. Previous local MYLs have now been dissolved and new local organisations will be set up. They will be headed by Local Coordinators. Initially local coordinators will be selected for areas where there is an MQI centre and all other surrounding towns will come under that coordinator. Subsequently that coordinator will be part of selecting local coordinators for each town. The Local coordinators nominated and agreed upon by the whole house are:
London coordinator: Muzzamil
Bradford coordinator: Wahid Hussain
Nelson coordinator: Rafaqat
Birmingham coordinator: Bilal Hussain/Asad (provisional)
Walsall coordinator: Rizwan Shafiq (temporary)
Manchester: Will be selected after further consultation
Glasgow coordinator: Will be selected after further consultation
Dundee coordinator: Will be selected after further consultation
A major part of the meeting was spent on discussing the projects that MYL UK will be working on. Projects that were selected had Project Managers nominated and approved by the house.
The relationship and communication between the MYL UK executive, NYC, local coordinators and Project managers was also discussed and made clear. Many other operational and practical issues were discussed.
A workers handbook is under production which will in detail provide transparently the structure of MYL UK, the process of working, organisational structure, communications channels, etc.
A separate meeting was held for the sisters, the sisters' executive consists of:
President: Tanzeem Begum (Birmingham)
General Secretary: Sweba Majid (Glasgow)
Information Secretary: Jabeen Ali (Oldham)
Public and Community Relations: Ambreen Mehmood (Glasgow)
Environmental Scanning: Sakeena Qadri (Manchester)
Finance Secretary: Mariam Khalid (Sheffield)