MQI Barcelona chapter hosts a dinner in the honour of the central leaders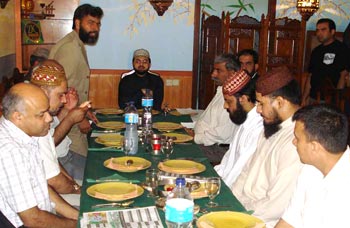 The son of Shaykh-ul-Islam Dr Muhammad Tahir-ul-Qadri, Sahibzada Hassan Mohi-ud-Din Qadri, and the Secretary General MQI, Dr Raheeq Ahmad Abbasi were given a red-carpet welcome upon their arrival in Barcelona on July 31, 2008. Later on, the Barcelona chapter of Minhaj-ul-Quran International hosted a dinner in the honour of the visiting guests and other leaders of Europe in the renowned Pakistani restaurant Zeeshan Kababish, which was also attended by the members of the working committee of MQI Barcelona, Minhaj-ul-Quran Youth League, central Consultative Council, local religious and political organizations and journalist community. Pakistani Counselor General, Ayyaz Hassan Sayed, also attended the dinner on special invitation. It should also be remembered that the head of Minhaj European Council, Allama Hassan Mir Qadri and vice president, Muhammad Naeem Chaudhry, were also with the central leaders.
Those from among the local organizations and journalist community who attended the dinner included Faizullah Sahi (president Pakistan Federation), Allama Muzaffar Hassan Naqvi (Imam Al-Qayam Islamic Centre), Sayed Tabassum Hassan Shah (Dawat-e-Islami), Raja Shafique (Radio Pakisloan), Khalid Shahbaz Chohan (president Pak Katalan Association), Raja Shoaib Satti, Javed Mughal (Hum Watan), Shahid Ahmad Shahid (Jazba International), Hafiz Abdur Razzaq Sadiq (Daily Maizban), Shaheen Malik (Sahara International), Shafqat Ali Raza (Nawa-e-Jang), Shaukat Islam Chohan (Mera Watan) and Malik Habeeb Awan.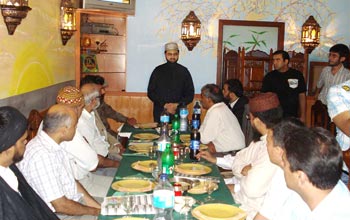 Amir Minhaj-ul-Quran International Barcelona Allama Abdur Rashid Sharifi received the central leaders upon their arrival at the restaurant. Sahibzada Hassan Mohi-ud-Din Qadri spoke at the topic of the purpose of creation of man and role of soul at the occasion. He said that he was pursuing his PhD on the thesis of the Madina Pact under a joint venture of Jama-tul-Azhar and a university of Arab League. He also spoke about the reconstructive work of Shaykh-ul-Islam Dr Muhammad Tahir-ul-Qadri in the present age.


Reported by: Naveed Ahmad Andalusi (Secretary General, MQI Barcelona)
Translated by: Amanat Ali Chaudhary