Imam of Two Holy Mosques Shaykh Mahir Al-Muaiqely visits MQI Japan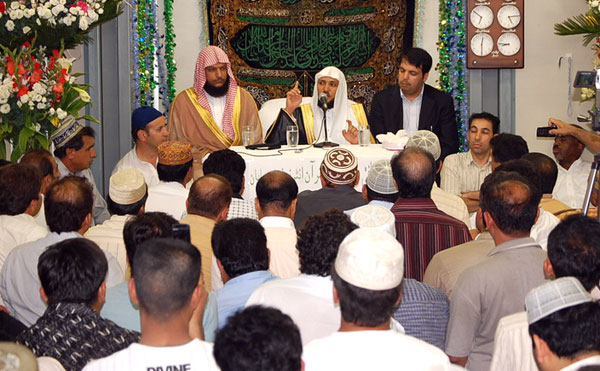 Imam of Two Holy Mosques (Hermain Nushariferain) Shaykh Mahir Al-Muaiqely visited the Minhaj-ul-Quran International Centre Japan on August 4, 2008 on Sunday. Hundreds of people gave him a red carpet welcome upon his arrival in the Al-Mustafa Mosque. A large number of children, standing in a line, presented the honourable Imam bouquets of flowers and people showered rose petals on him. The administration of Minhaj-ul-Quran International under the leadership of Saleh Muhammad Afghani received the Imam-e-Kaba.

Imam-e-Kaba led the Mughrib and Isha prayers at the Minhaj-ul-Quran Centre, Japan and spent a good amount of time among the people there. The happiness of people knew no bound at such a rare honour done to them. People coming from across the different locations and whereabouts expressed their extreme happiness and congratulated the administration of Minhaj-ul-Quran.
The Imam-e-Kaba was accompanied by his younger brother, Dr Shaykh Nabeel Al-Muaiqely, the third secretary of Saudi Embassy in Japan, Saboor Al-Qureshi, spokesman for Saudi embassy, Arif Kaki and Usman Burkia.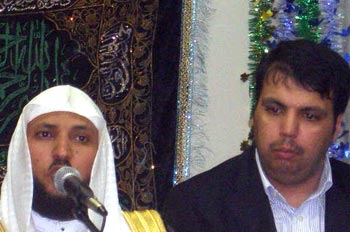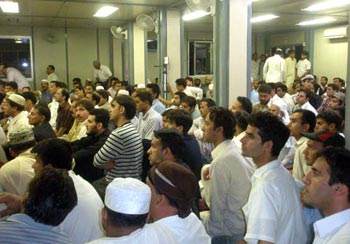 During the intervening time between Mughrib and Isha prayers, the Imam-e-Kaba delivered a spiritualizing speech. It should be remembered that the Imam-e-Kaba had his longer stay at the Minhaj-ul-Quran Centre, Japan than at any other place during his visit to Japan.

During his address, he expressed his happiness over such a huge arrangement and urged the unity and solidarity of the Muslim Umma. He further said that precarious circumstances the Muslims were in during the contemporary age necessitated formation of unity in their ranks to offset the recurring challenges. He also directed the Muslims living in non-Muslim societies to adopt pious behaviour and good character to set an enviable example for others.
 Appreciating the children undergoing training and the Islamic education at the Minhaj-ul-Quran Centre, Japan, he said imparting good education and character was of utmost importance in a non-Muslim societies and it should be paid special attention by the parents.

After the speech, the Imam-e-Kaba held a telephonic conversation with Shaykh-ul-Islam Dr Muhammad Tahir-ul-Qadri. Shaykh-ul-Islam welcomed the Imam of the Two Holy Mosques upon his arrival at the MQI centre and invited him to visit the Central Secretariat in Lahore (Pakistan), upon which he expressed his pleasure.

The Imam-e-Kaba was gifted the books of Shaykh-ul-Islam Dr Muhammad Tahir-ul-Qadri namely "Al-Minahj Al-Savi and Irfan-us-Sunna".
Repoted by: Ali Imran
Translated by: Amanat Ali Chaudhary