Australia: Dr. Hussain Mohi-ud-Din Qadri speaks on 'Significance of Repentance'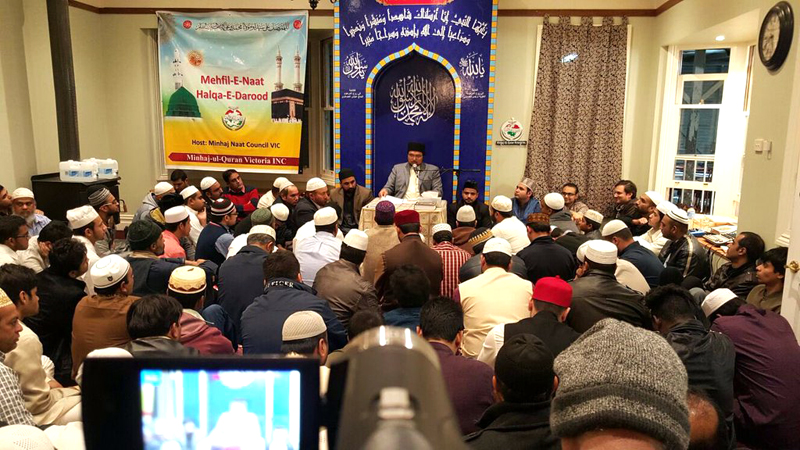 Minhaj-ul-Quran Victoria organised the Night of Salvation this evening at Mount Cottrell which was attended by hundreds of members of the community. Due to an increasing number of attendees of the spiritual event, urgent arrangements were made by the MQI Victoria Jaam-e-Masjid Committee to accommodate community members outdoor for the event.
The event started at 6:30 PM with recitation of Surah Yasin and Wazaif, Salat-al-Isha was led by Shaykh Shoaib Al-Qadri followed by Dr. Hussain Mohi-ud-Din Qadri giving a detailed introduction on the significance and procedure of Salat-al-Tasbih in the light of prophetic traditions.
Dr. Hussain Mohi-ud-Din Qadri led the Salat-al-Tasbih and concluded with a special Duaa. The second phase of the event initiated with recitation of the Holy Quran by Farjad Hussain and Naat Sharif by Syed Rafi-ud-Din Qadri (Senior Member Minhaj Naat Council of MQI Victoria). He initiated his lecture at 8:15 PM, and it was based on significance of repentance and love for Allah (SWT) in the light of Quran, Hadith and Spiritualism.
Dr Hussain Qadri explained the stages and procedure and several dimensions of repentance. He said that repentance is the true migration towards Allah and that the 15th of Shaban is the night to repent collectively for all the sins man has committed. He also led the collective Duaa which was very emotional and resulted in participants shedding tears as the Duaa extended. Greetings and salutations were sent upon the Holy Prophet (PBUH). Jamil Qureshi, Syed Rafi ud Din Qadri and Ahmad Siddique, MQI Victoria Naat Council members were among the distinguished participants.