Dallas: Special programme in remembrance of Hazrat Ali (RA) held under MQI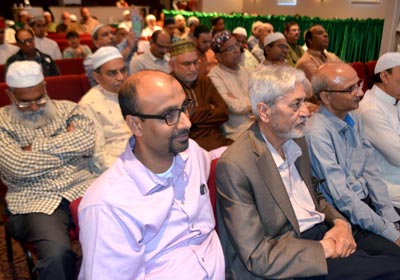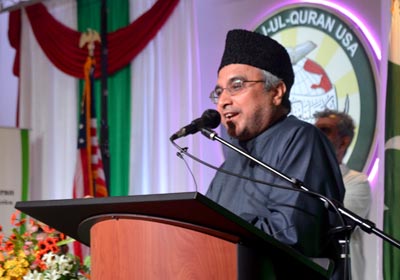 Minhaj-ul-Quran (Dallas Texas, USA) is taking practical measures to present the true Islam by preaching inter-faith harmony, striving to promote the culture of tolerance and moderation and peace, security, love and coherence among the communities inhabiting the Dallas Fort Worth area.
With this very concept of brotherhood, eschewing sectarianism, mutual love and forbearance, Jame' Hasan Al-Basri Minhaj-ul-Quran Community Centre Dallas organized an estimable event of Youm-e- Ali (RA) in the remembrance of the Holy Prophet's noble companion and cousin, Hazrat Ali (RA) on April 23, 2016 at its ornate Uwais al-Qarni auditorium. The auditorium was full to its capacity with people of different age groups who came from far and near distances to attend the program.
The program commenced with the beautiful recitation of Surah al-Rahman by Hafiz and Qari of Jame' Hasan al-Basri, Tariq Saeed, followed by the translation by brother Kareem. The two stage secretaries of the program included Aly Boghani and Zohair Akhtar, who coordinated very well to make the program successful. From the beginning to the end of the event, both MCs kept the audience in a spiritual atmosphere by their heart-touching and inspiring way of expression.
Next, the nasheed in the praise of the Holy Prophet (Sallalahu Alaihi Wassalam) was recited by Subhan Mian and a series of Manqabat in the praise of Moula Ali (RA) was recited by Maamoon Mian, Salahuddin and Mauji sahib. This was followed by the speech delivered by Shaykh Asil Khan on the topic of Ali, who is the Door of Knowledge, and the role of Moula Ali in uniting the Ummah at the time of dissension. He asked: why are we showing our devotion tonight, who is this personality that we are all together for?
Quoting the hadith of the Holy Prophet (SAW), Shaykh Aseel described: "Only believers will love Ali (RA)." Furthermore, The Holy Prophet (SAW), said: "Ali is from me and I am from Ali." After this inspirational speech, Maulana Irtiza Naqvi also delivered a heart-warming speech on Moula Ali (RA). He mentioned that the difference between Ilm and al-Ilm is that Al-Ilm is Almighty Allah's Ilm. Ilm can be forgotten, but Al-Ilm cannot be forgotten as it is from Almighty Allah. Almighty Allah granted Ilm to Hazrat Ali (RA) through the Holy Prophet (SAW). This beautiful program concluded with the salutation upon the Holy Prophet (SAW) and dua by Shaykh Asil Saheb. Books written by Shaykh-ul-Islam Dr. Muhammad Tahir-ul-Qadri were on sale and free CDs on the 'manaqib' of Hadrat Ali (RA) were distributed free to the audience. All the audience was distributed delicious desi Haleem box at the conclusion of the program.