MWL UK North Zone holds Training Workshop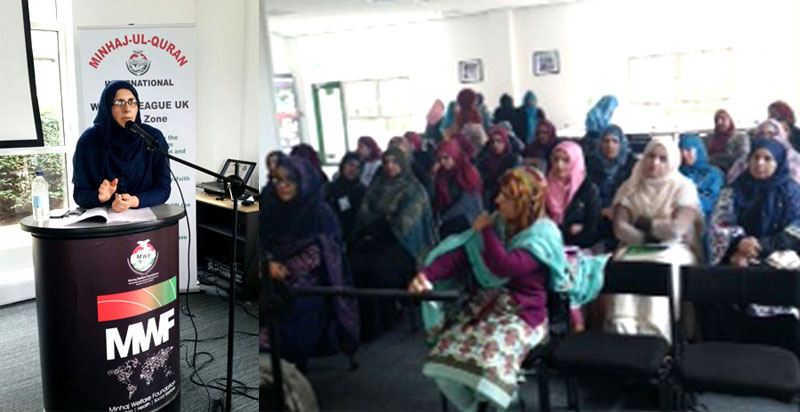 A training workshop was held on the 16th April 2016 by Minhaj Women League North Zone for their twenty one chapters.
The aim of the event was to elaborate on Minhaj-ul-Quran as a worldwide organisation and to carry out assessments for the Essential's of Islam Course run by MWL UK.
The keynote speaker was Sister Fatima Mash'hadi MWL UK President, speakers in attendance were Sister Musarrat Hussain MWL UK General Secretary, Sister Lubna Hashmi MWL UK Dawah Secretary and Sister Nusrat Mehmood MWL South President and Sister Mamoona Fatima MYL UK.
Sister Ehram Fatima, MWL North Zone Deputy Secretary, registered over eighty Sisters for the workshop.
The event was hosted by Sister Shaila Parveen, MWL North Zone General Secretary. She gave the guests a warm welcome.
To commence the event Sister Mamoona Fatima recited beautiful verses of the Passage 'The One' from the Glorious Quran.
This was appreciated by all the Sisters. Praise of the Almighty was made by Sister Asifa Malik MWL Ashton President. The Sisters taking part in the Tajweed classes for the Essential's of Islam Course were assessed by Sister Nusrat. She modelled the correct pronunciation of the Arabic alphabet.
Sister Fatima Mash'hadi was welcomed on to the stage and she started her session on 'What is Minhaj-ul-Quran?' Her words were motivational throughout the session. All the Sisters were asked to write down what Minhaj-ul-Quran is, the organisation founded by Shaykh-ul-Islam Dr Muhammad Tahir-ul-Qadri in 1981. Some sisters were selected to share their thoughts on this. The ideology of MQI was summarised as the revival of Islam through the implementation of Islamic values. After sister Fatima eloquently delivered her speech, sisters from the audience were selected to share what they had learned. Sister Shazia Sultan MWL Bolton President and Sister Naila Malik MWL Rotherham General Secretary shared their thoughts.
Sister Lubna Hashmi presented her assessment session on the Faith book some sisters had been studying. She shared some beautiful Hadeeth on possessing true faith. Sister Nusrat provided feedbacks for the Tajweed assessments and provided information on future classes.
Sister Nasreen Akhtar MWL North Zone President praised the ongoing efforts of the MWL'S present by sharing their achievements from the 2015. She shared the future working plan with the Sisters and motivated them highly. She spoke about planning of 'Iftar parties' that were to be held in Ramadhan to work with Minhaj Welfare Foundation.
Sister Musarrat presented an activity focusing on the importance of effective team work. The Sisters thoroughly enjoyed the activity. They were able to reflect the factors needed for effective team work.
Overall the event had great impact upon the Sisters and equipped them with tools for effective 'dawah' for MQI. They also progressed with their studies of the 'Essential's of Islam course'.
Written by Ehram Fatima (MWL North Zone Deputy Secretary)