USA: Tributes paid to Hazrat Imam e Hussain (RA)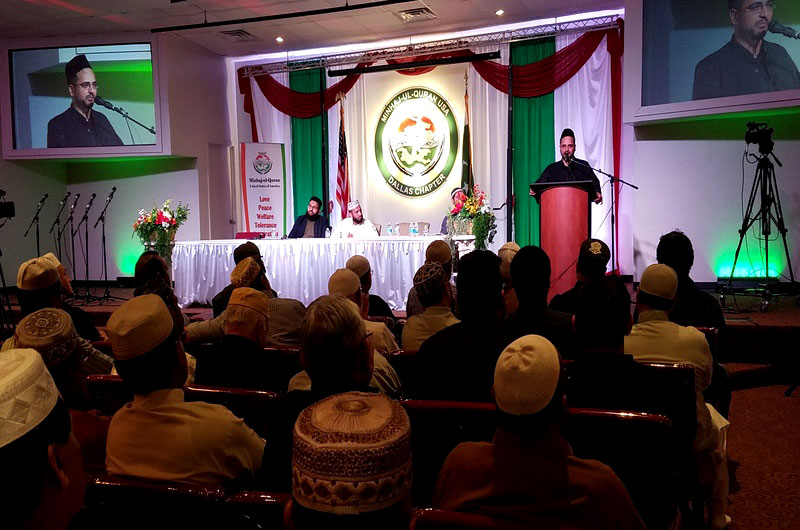 According to Umar bin al-Khattab RadiAllahuAnhu:
"I heard Allah's Messenger (peace and blessings be upon him) say: 'Every lineage and kinship will be discontinued on the Day of Resurrection except my lineage and my kinship.'"
Reported by al-Hakim and al-Tabarani with an excellent chain of transmission.
Hazrat Umar Ibn e Khattab (RA) narrates from Prophet Muhammad (peace and blessings be upon him): "Hassan and Hussain are masters of the youth in heaven. Whosoever loves them has loved me, and whosoever has animosity with them, is my enemy."
Minhaj-ul-Quran Community Center Dallas, Texas USA organized a blessed gathering in the Remembrance of Shahadat-e-Imam Hussain (RA) on Saturday, October 8, 2016 at Uways Al-Qarani Auditorium. People of all ages attended the program with religious zeal and fervor. There were two MCs of the program; Minhaj Youth League Brothers Aly and Zohair who conducted the program with eloquence and maintained the balance of the program well.
The program started with Qirat and a brief Tafseer of Surah al-Baqara verses 151-157 by brother Moiz with the emphasis on the concept of patience. Brother Mushatq recited the Baat followed by the brief speech by Minhaj Youth League brother Mobeen. During his speech, Mobeen emphasized that the martyrdom of Imam Hassan (RA) and Imam Hussain (RA) are great events in history of mankind.
Allama Nayyer Raza Shirazi and Hafiz Shaykh Aseel Khan were the two main guest speakers of the program. Allama Nayyer Shirazi's Iman enlightening speech was on the love of Ahl-e-Bayt. While giving the reference from the book Al-Sayf al-Jali 'ala Munkir Wilayat 'Ali (R.A.), written by Shaykh-ul-Islam Dr Muhammad Tahir-ul-Qadri, Allama Shirazi mentioned a hadith that Holy Prophet (peace and blessings be upon him) said "to who so ever I am the master of, Ali is the master of. Who so is denying Ali, he is denying me"
Furthermore, Allama Shirazi clarified the concept of 'nafs' and emphasized on how to safeguard and train our 'nafs'. Famous Naat Khawn Amjad Shahbaz also recited a beautiful manqabat in the praise of Ahl-e-Bayt. The last item of the program was a very inspirational speech by Shaykh Hafiz Aseel Khan who conveyed the message of peace, patience, tolerance and sacrifice from the martyrdom of Imam Hussain (RA).
The books written by Shaykh-ul-Islam Dr. Muhammad Tahir-ul-Qadri were placed for sale. Cds were free. Minhaj Youth League Sisters also held fundraising for the scholarship for the deserving students. The program was concluded with Dua by Hafiz Atif and Salam by Amjad Shahabaz.