Director General ICRO of Iran Hamed Malakooti calls on Dr Hussain Mohi-ud-Din Qadri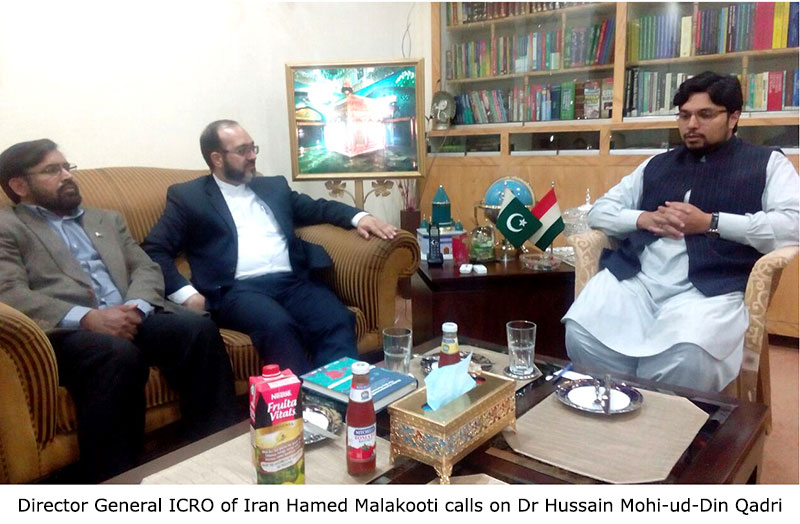 Agha Hamed Malakooti, Director General of Islamic Culture & Relations Organisation, Iran, visited Minhaj University Lahore the other day and met with Dr Hussain Mohi-ud-Din Qadri, president of MQI. Director Interfaith relations of MQI Sohail Ahmad Raza was also present on the occasion.
The matters related to collaboration between Minhaj University and Islamic University Mashhad, cooperation in the arts, and culture came under discussion during the meeting. Hamed Malakooti visited various departments of MUL and emphasized the fact that there should a comprehensive strategy to increase cooperation between universities at intellectual level. He further stated that visits of delegations from both universities will also be useful to take this collaboration forward.
Dr Hussain Mohi-ud-Din Qadri gave Hamed Malakooti the gift of translation of the Holy Quran done by Dr Muhammad Tahir-ul-Qadri. At this, the Iranian guest said that Dr Tahir-ul-Qadri's services for promotion of knowledge and restoration of the Islamic traditions and values are praiseworthy. He said that the whole world is benefiting from his scholarship.
Both personalities discussed the changing regional and international conditions and underlined the need for greater cooperation in several fields particularly in economic area. They said that forging economic partnerships will pave the way for establishment of peace and stability in the region.
Hamed Malakooti told Dr Hussain Mohi-ud-Din Qadri that the viewpoint of Dr Tahir-ul-Qadri against terrorism and extremism is listened to very seriously and attentively in the world and the moderate people hold him in the highest esteem.