Nelson: Quaid Day Celebrations held by MQI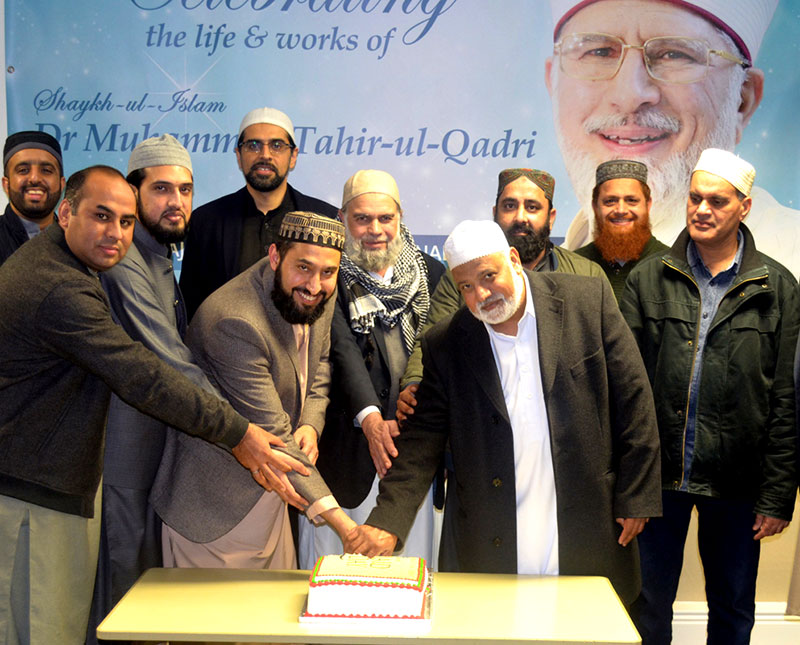 On Sunday 19th February 2017 Minhaj-ul-Quran International held the annual Quaid Day celebrations to mark the 66th birthday of his eminence and founder of Minhaj-ul-Quran Shaykh-ul-Islam Dr Muhammad Tahir-ul-Qadri. The event was hosted at Jamia Masjid Minhaj-ul-Quran Nelson and was jointly organised and attended by members, supporters and well-wishers aligned to the Nelson, Burnley, Accrington and Blackburn chapters.
During the event, numerous speakers were invited to talk about the life and works of Shaykh-ul-Islam Dr Muhammad Tahir-ul-Qadri. Director of Minhaj-ul-Quran Nelson Allama Nauman Al-Azhari delivered a detailed speech on the life and achievements of our Quaid. He spoke about his childhood, educational achievements, prominent positions held in the professional career and the establishment of Minhaj-ul-Quran.
Allama Nauman said many renowned scholars had observed the distinctive qualities and excellence of Shaykh-ul-Islam even at a very early age so it was no surprise that our Quaid has achieved so much in his life. He also mentioned the prolific written achievements of our Quaid. He said Shaykh-ul-Islam Dr Muhammad Tahir-ul-Qadri had researched and authored many books in key areas that no scholar had previously undertaken. He said that this was an incredible achievement that had dispelled many previously held misconceptions.
Langer was served to all attendees and a special birthday cake was cut in our Quaid's honours.
Reported: Kashif Khan