France: Dr Hassan Mohi-ud-Din Qadri addresses Workers Convention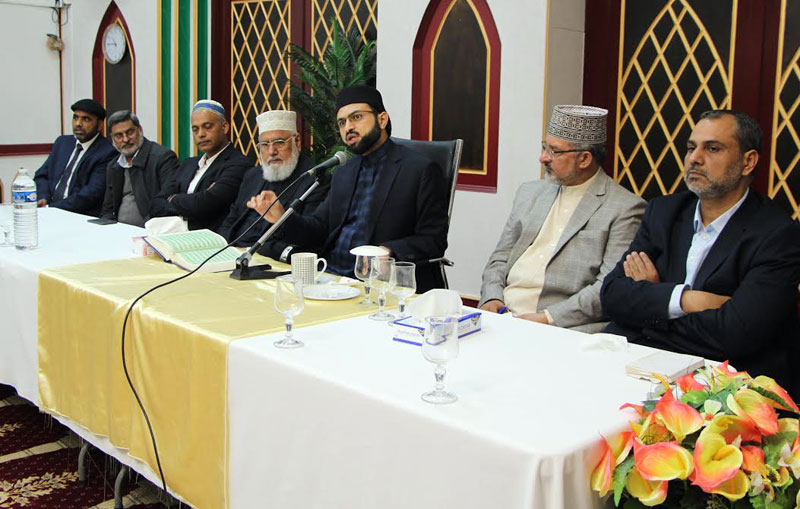 Dr. Hassan Mohi-ud-Din Qadri delivered a motivational lecture at the MQI France headquarter with an aim to train & motivate the MQI Workers of all forums, present at the organized event by MQI France were scholars, leaders of MQI & PAT, heads of all forums, members, workers & affiliates of MQI France.
Dr. Hassan Mohi-ud-Din Qadri spoke on the concept and philosophy of leadership and followership in the light of Quran & Sunnah. He mentioned the qualities of the companions of Suleiman (AS) and highlighted the consultative system / parliament of the Suleiman (AS). He said that this was a unique parliament which consisted of over 600 members.
Dr. Hassan said that members of this Shura were among the vast creation of Allah Almighty in it were Jinn, humans, birds, insects & beasts. He continued to shed light upon the importance of consultation in the light of Quranic events.
The other aspect of the speech was an elaboration on management principles in the light of Quran and how members, workers & affiliates can understand its importance. Dr. Hassan Mohi-ud-Qadri quoted the Quranic event of 'Hud Hud' a bird in time of Suleiman (AS) employed for communicating the messages and for other suitable services of that time and how we as workers today can learn from its example.
Chairman of the Supreme Council of MQI said that the relation of a leader and worker is based on positive thoughts, principles and attitude. He said that a person can't be a leader if he is unaware of the state of his workers or neglects them. He said that Shaykh-ul-Islam Dr. Muhammad Tahir-ul-Qadri is aware of his workers starting from its top leadership down to its workers. He said that it is vital to embark on the path of positive attitude and thought towards working within the mission and that all workers should refrain from negativity.
Dr. Hassan Mohi-ud-Din Qadri further explained the authority and blessing of the friends of Allah Almighty. He said that the companion of Suleman (AS) accomplished bringing the throne of Queen Saba instead of the Jinns. He said that if this is the state and authority of a companion and member of Suleiman (AS) era what will be the state of a follower of Prophet Muhammad (PBUH). He said that the mission of MQI is the Mustafvi mission, and thanks to the blessings of the Prophet (PBUH), the workers of this esteemed mission can achieve anything.