Bradford: Eid-ul-Fitr 2017 celebrated amid prayers for peace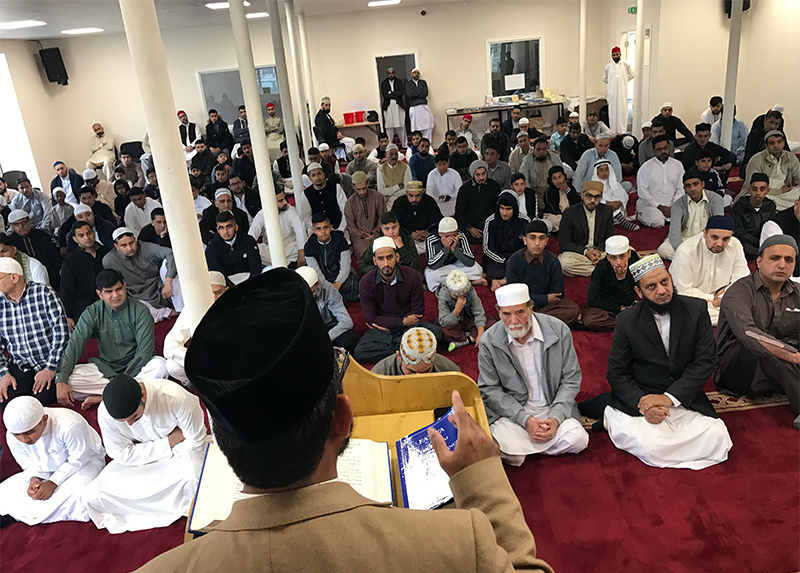 Hundreds of people gathered to offer their Eid prayer and rejoice with friends and family as Madinat-al-Zahra celebrated its first Eid ul Fitr on Sunday 25th June 2017. The festival marks the end of the holy month of Ramadan wherein bittersweet emotions are harboured but there is hope that the prayers, charity and additional acts of worship are accepted by Allah (All Praise is for Him).
An impassioned sermon was delivered by Allama Muhammad Afzal Saeedi with the main theme focusing on noble character and mercy. He drew examples from the Holy Qur'an, the Hadith and the historic Fatwa written by Shaykh ul Islam Dr Tahir-ul-Qadri outlining how the life of our Holy Prophet Muhammad (peace and blessings be upon him) is the most significant model for the propagation of peace. The Prophet (peace and blessings be upon him) revolutionised society in Madinah by implementing a manifesto of peace, justice and morality for every member of its community; young and old, able or with a disability, and irrespective of colour, race, or article of faith.
Allama Muhammad Afzal Saeedi fervently addressed the worshippers that Madinat-al-Zahra will strive to implement the prophetic model in the community. This would be made possible through events, classes and workshops providing a means of education for people of all ages, faiths and gender as well as Mehfil-e-Dhikr gatherings focusing on spiritual training. This would ensure that balanced individuals integrate into wider society and are of benefit to it.
The Eid prayer was offered after which a Du'a was made for the Muslim Ummah and for global peace and unity. The victims of the recent spate of horrific terrorist attacks were also in the thoughts of all gathered as well as those suffering throughout the world.