Spiritual Training Camp for Minhaj Women League and Minhaj Sisters Norway
By the grace of Allah Almighty, Minhaj Women League Norway successfully hosted a three-day Spiritual Training Camp for all its board members during the third week of the Ramadan. A larger number of young girls and women spared their time to be at the camp to acquaint themselves with spiritualism and knowledge of Islamic teachings and Islam and Minhaj-ul-Quran International.
Spiritual Training Camp was attached with the optional itikaf for the women arranged by MWL (Norway chapter) so that girls and women attending the camp would also have opportunity to be at optional Itikaf to get a taste of mysticism.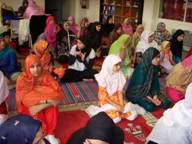 The camp started with salat ul tasbeeh
followed by a DVD lecture by Dr.Tahir ul Qadri.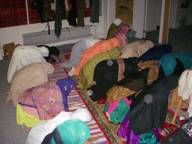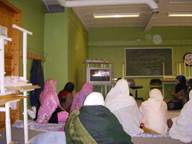 All salat was done baja`mat in Idara.
The camp started with salat ul tasbeeh followed by a DVD lecture of Shaykh-ul-Islam Dr Muhammad Tahir-ul-Qadri. Allama Noor Ahmed Noor gave a lecture on the Holy Quran and Ms Safia Ishfaq spoke on the subject of Fiqh (Jurisprudence).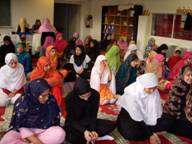 It is a painful reality that our young generation today is not familiar with the basics of Islam. If they are lucky and have parents with the exact knowledge of Islam they might have their basics right, but it is the case with everyone. So being part of MQI and getting the chance to knowing Islam with all its aspects is a blessing.
Also part of this camp was to attain knowledge about Islamic history and for this purpose Allama Hassan Mir Qadri dilated upon the history of Islam discussing the main features of every age and how Islam has come to be one of the fast spreading religions of the world.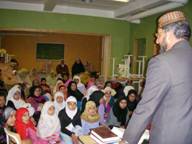 He asked the gathering how, in their view, Islam spread all over the world when Prophet Muhammad (p.b.u.h) didn't leave Makah or Medina after receiving the revelation. The answer to that is simple; the best way to teach and to spread knowledge over a long time and space is to give it away to everyone next to you. The Holy Prophet (saw) gave his knowledge to his companions who educated and taught people around them. By this way Islamic message got transmitted to the rest of the world and did not get stuck in time warp.
In other words if we learn about MQI and bring the message of peace, dialogue and interfaith harmony even further as holy companions and their followers did, By grace of Allah, there will be no looking back and misconceptions about Islam will be removed. If we as true lovers of the Holy Prophet (saw) promise with ourselves to take this message of Islam forward, we will actually gain Allah's grace.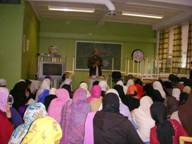 A mehfil-e-naat and Halqa-e-Durood also took place during this camp. The most popular event was question and answers part where women and girls asked questions about many issues. It is matter of immense satisfaction that when you have knowledgeable person with you, you can ask him any question you like to clarify yourself on a given issue. He can help you to better understand Islam by allaying your fears and misconceptions.
At the end of the camp day the iftar meal was prepared by MWL(Norway chapter) to all present at the at the camp and at Idara.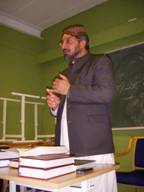 May Allah accept our humble effort to spread the real message of Islam in this day and age when many misrepresentations have come to characterize it.
It's a battle between the good and the evil and hasn't changed since the morning of time. This battle will follow us as long we live. By having a belief in Allah and his beloved Prophet (saw) we are better positioned to fight against this evil. There is no other way to win this battle.
May Allah be with us all the time!
Report:
Ayesha Iqbal Khan
Media Information Secretary
Minhaj Women League Norway