Scotland: MQI promoting community cohesion & understanding in the world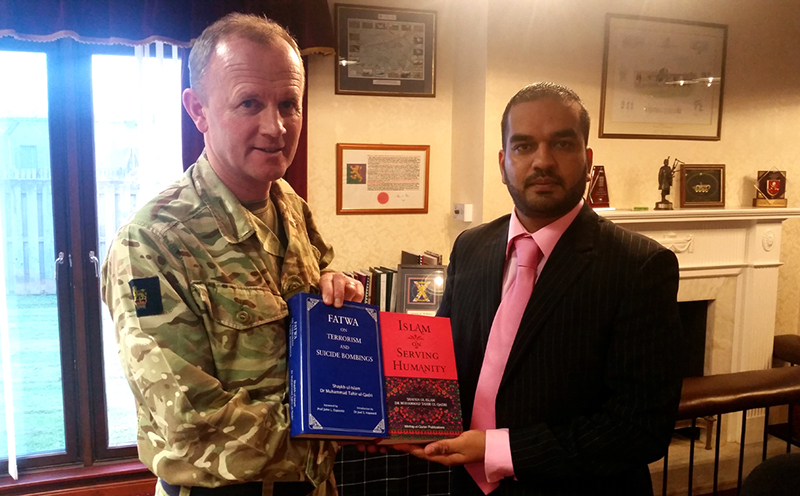 On behalf of Minhaj-ul-Quran International, Shaykh Rehan Raza Al-Azhari met with head of 51 Brigade Gary Deakin to discuss a number of issues at the Army Headquarters in Sterling.
Shaykh Rehan started by introducing Minhaj-ul-Quran International and Shaykh-ul-Islam Dr Muhammad Tahir-ul-Qadri and the work that is being carried out at global level for the betterment of humanity.
The focus of the discussion was rise of extremism, radicalisation and terrorism whether it's religious or political radicalisation and how can we work together to create a better understanding and a more cohesive society.
Shaykh Rehan introduced the fatwa on suicide bombings and terrorism which is a comprehensive rebuttal on all ideological and theological arguments of the extremist groups. He explains that according to Islamic Law there are no if's and but's when it comes to terrorism. Terrorism cannot be justified under aren't pretext and those who perpetrate acts of terrorism believing that it's permissible are out of the fold of Islam.
He further elaborated on the Islamic Curriculum on Peace and Counter Terrorism and how it's been taught in various institutions across the world to equip young people with theological and ideological tools to counter the extremist narrative and allow the young people to become ambassadors of peace.
The number of anti-terror camps that were held by Minhaj-ul-Qur'an International UK under the name of al-hidaya were a particular interest to Brigadier.
Brigadier Gary Deakin said: "he would be happy to work with Minhaj-ul-Quran International to promote community cohesion and understanding"
A set of the Islamic Curriculum on Peace and Counter Terrorism was gifted to the Army Headquarters which would assist them to have a better understanding of the Islamic teachings.
In the coming months an event will be organised by Minhaj-ul-Qur'an International Glasgow where the Army officers will be hosted.