USA: Grand Mawlid-un-Nabi ﷺ Ceremony held under MQI Dallas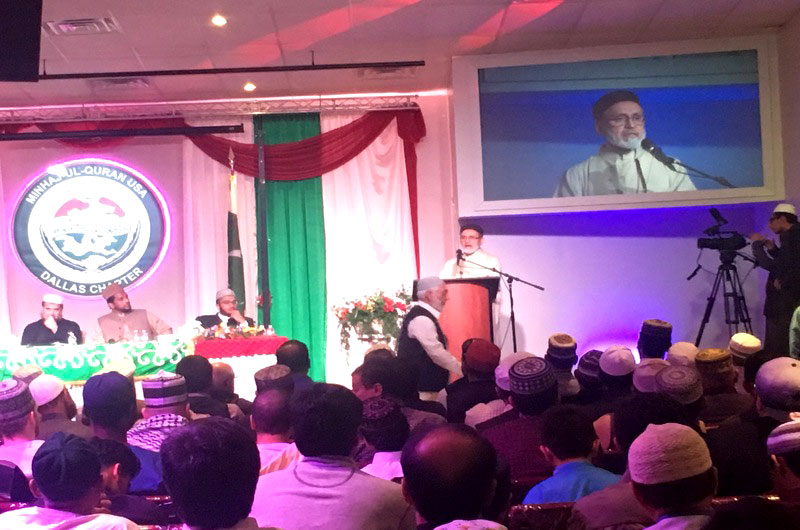 "The onset of the blessed month brings with it a message of peace, happiness, and tranquility. Our individual happiness is no match to the collective happiness symbolized by the holy month." With this message of Shaykh-ul-Islam Dr. Muhammad Tahir-ul-Qadri, Minhaj-ul-Quran International Dallas celebrated the Grand Mawlid-un-Nabi at Uways al-Qarani ﷺ Auditorium of Minhaj-ul-Quran Dallas on 13th of Rabi-ul-Awwal on December 2, 2017.
By the Grace of Almighty Allah and His Beloved Prophetﷺ, Minhaj-ul-Quran Dallas Community Center started holding daily Milad-un-Nabi ﷺgatherings with the sighting of the moon of the blessed month of the Rabi-ul-Awwal from Monday, November 20, 2017, which concluded with Grand Mawlid-un-Nabiﷺ on December 2, 2017.
The two masters of ceremony of this blessed program were Minhaj Youth League coordinators Zohair Akhtar and Mobeen Mian who conducted the program in a very organized way. The program commenced with the beautiful Qirat of Surah Ad-Duha by Hafiz Sameer Bhura followed by its translation. Students of Sunday Islamic School of Minhaj-ul-Quran Dallas presented Qaseedah Burdah Shareef. Minhaj Youth League and Alumni sisters of Sunday School also presented a melodious nasheed in the praise of the Holy Prophet .ﷺThe main guest naat reciter was Syed Sabeehuddin Rahmani who recited Iman enlightening nasheeds and caught the attention of the audience.
The program proceeded further by the inspirational speeches delivered by Shaykh Aseel Khan, Dr. Zafar Anjum and Dr Zia-ul-Haq. To develop the love of the beauty of the Holy Prophet ﷺ, Dr. Zia-ul-Haq gave the information to the audience from a hadith about a complete description of Prophet Muhammad ﷺ narrated by Umm Ma'bad. The books written by Shaykh-ul-Islam Dr. Muhammad Tahir-ul-Qadri were also placed in the stall for sale.
The program concluded by the congregational salutation of peace upon the beloved Prophet ﷺ led by Rahmani saheb and dua by Dr. Zafar Anjum. The gifts were distributed among the performers of 12 daily Mawlid programs. All the participants were provided the delicious Ziyafat-e-Milad meal boxes after the conclusion of the program. The event was telecast live on Minhaj-ul-Quran Dallas Facebook.