MQI celebrations National Day of Bahrain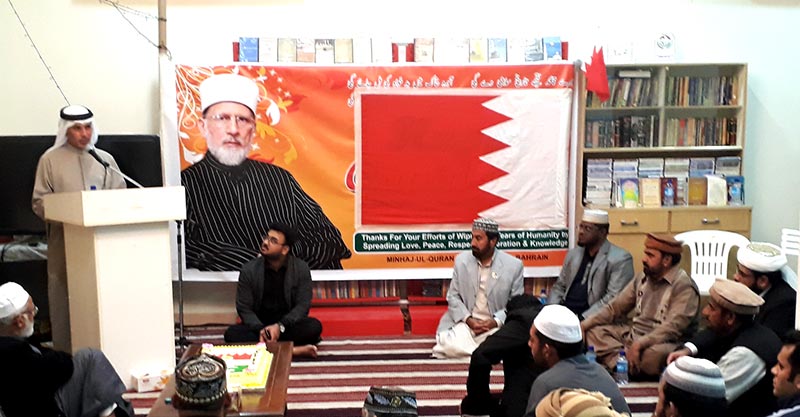 Minhaj-ul-Quran International Bahrain celebrated Bahrain National Day in an inspiring and decent manner. A ceremony was held on 14th December, 2017 in this regard in conjunction with weekly gathering of Durood-o-Salam. The chief guest of the event, Shaykh Sameer Abdul Rahman Al-Fayez represented Shaikh Rashid bin Ibrahim Al-Muraikhi who is chief patron of Jamiat Imam Malik bin Anas and Minhaj-ul-Quran International Bahrain. Mr. Sajid Khan who is director of MQI Bahrain was the guest of honor.
The program started with recitation of the holy Quran by Mr. Qari Haq Nawaz. Naat Shareef recited by Mr. Ishaq Nadeem (Vice President Majlis e Shoora) and Mr. Ijaz Ahmed. Program was jointly conducted by Mirza Ijaz Ahmed (Vice President), Mr. Dildar Hussain Qadri (Nazim) and Hafiz Shahzed (Nazim Gosha-e-Durood)
The chief guest who is also nominated director of MQI Bahrain delivered special speech on this auspicious occasion and admired high social, economic, spiritual and welfare values and standards set by Shaykh-ul-Islam Dr. Mohammed Tahir-ul-Qadri across the world. He also praised the role of MQI Bahrain in enhancing mutual love and brotherhood among the Pakistani, Indian, Bangladeshi and Bahraini communities.
On behalf of MQI Bahrain, Mr. Abdul Rahim Chishti (President) presented an Arabic book titled "Tareekh-ul-Ikhtifal"to the honorable chief guest. The book written by renowned Egyptian scholar Mr. Khalid Sabit wherein he has shared his remarkable appreciation of annual Milad conference held by MQI in Lahore under the leadership of Dr. Muhammed Tahir-ul-Qadri. He also appreciated Mr. Faiz ul Hassan (Nazim Welfare, MQI Bahrain) for taking initiative of organizing the National Day of brotherly Bahrain.
Mr. Ashraf Bhinder (Ameer MQI Bahrain) and Mr. Abid Hussain also delivered their speeches in which they highlighted various aspects of Bahrain history and Islamic social values.
Special cake was cut to celebrate the occasion which was followed by Dua and nice dinner to end the ceremony with vote of thanks by Mr. Dildar Hussain Qadri (Nazim, MQI Bahrain) and his all members of National Executive Council, MQI Bahrain.